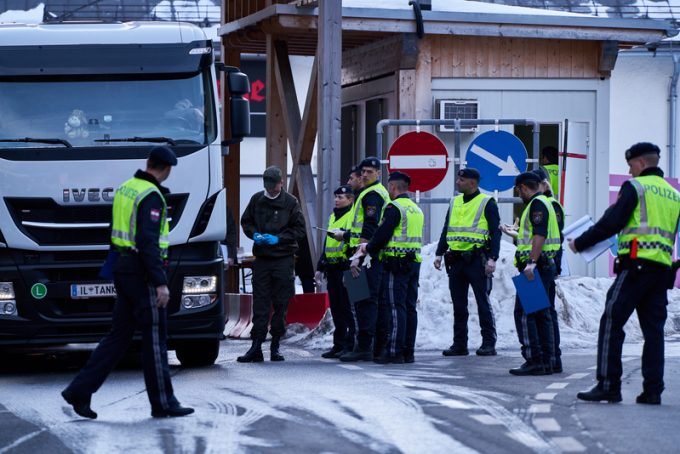 New border restrictions being introduced across European states have the potential to bring road freight to a standstill. 
The International Road Transport Union (IRU) this morning warned that new border measures recently imposed by Germany at its crossings with the Czech Republic and the Austrian province of Tyrol, to curtail the spread of Covid-19 mutations, could lead to congestion similar to that seen at Dover shortly before Christmas. 
While these borders remain open to freight traffic, under the new measures, truck drivers have to present a negative Covid test, effectively closing the 'Green Lanes' concept introduced last year across Europe to keep trade flowing across borders. 
Both Tyrol and the Czech Republic have introduced similar measures for traffic leaving for Germany. 
"Rapid antigen tests are accepted; however, they must be conducted by an authorised laboratory, a difficult requirement for mobile truck drivers working outside their home country," the IRU warned, and called for European governments to keep borders open to trucks. 
"Truck drivers, and the European citizens and businesses that depend on the goods they move, are again set to pay a heavy price for misguided Covid restrictions that do not exempt transport workers," said IRU secretary general Umberto de Pretto.  
"Germany, Tyrol and the Czech Republic must reintroduce test exemptions for professional truck drivers immediately, otherwise their actions will damage vital supply chains, the single market and the lives of millions of EU citizens – at a huge cost and without any material benefit to controlling the virus," he added. 
These are a key transit routes for European road freight: the IRU said more than 7,000 trucks move on the north-south corridor through Tyrol every day, about the same number that use the Dover-Calais corridor. That was thrown into chaos in December when France imposed similar restrictions that did not exempt professional truck drivers from providing a negative test.  
And, it said, "tens of thousands more trucks use the east-west corridor to Germany via the Czech Republic", calling it a major transport route for central European logistics.   
According to the Sixfold border crossing traffic monitor, a queue of 15km had built up at the Rozvadov-Waldhaus crossing between Germany and the Czech Republic this morning. 
At the Brenner Pass, on the Italy-Tyrol border, there was a 5km queue to cross. 
"Isolated in their cabin, truck drivers are not exposed to the virus and they comply with strict measures against possible infection put in place by their employers and their customers, including no physical contact at pick-up and delivery locations," said Mr de Pretto.  "Letting drivers do their job and continue their journey across a border is the safest solution." 
And the IRU appears to have the support of the EC's transport and mobility commission.  
In a letter on Friday, commission director general Henrik Hololei wrote to Mr de Pretto: "Because these new measures are taken unilaterally, they confront the freight industry with an ever-changing patchwork of rules.  
"This bears a risk that transport workers face being subject to different testing regimes while travelling through Europe, paying penalties and, ultimately, quarantine measures if the patchwork of rules are not followed.  
"Therefore, it is of utmost importance to keep Green Lanes operational at all times," he concluded.