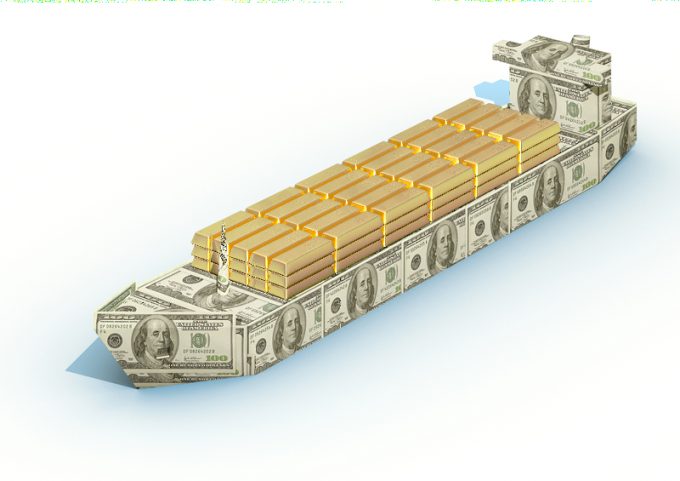 Ocean carriers are becoming increasingly confident that freight rates will remain high for years and are still chartering ships for lengthy periods at elevated daily hire rates last seen 16 years ago.
Alphaliner reports that Maersk has just fixed a trio of 4,600 teu handy classic panamax vessels for periods of 24 to 27 months at a staggeringly high rate of $35,000 per day. The consultant noted that the last time a panamax containership achieved this rate level was in 2005.
Indeed, the 2009-2010 built Northern Priority, Northern Promotion and Northern Precision managed by Hamburg-based V Ships would have struggled to achieve $5,000 per day just five years ago, when the days of the hitherto workhorses of the liner industry looked numbered, due to the economies of scale offered by bigger ships.
The Danish carrier already has the 4,586 teu Northern Priority on charter, having extended the hire until the end of this month at a rate of $10,450 per day, but has now been obliged to pay more than three times this rate to keep the ship in its fleet.
Alphaliner said Maersk had joined its 2M partner and rival MSC in a "fixing spree", noting that Maersk is said to have just agreed the charter of two further panamaxes – the 4,253 teu Xiamen and 4,252 teu Nagoya Tower – from UK-based Zodiac Maritime for periods of 30 months at $32,000 per day.
The Xiamen was previously achieving just $9,100 a day on charter to another carrier, while Maersk previously had the Nagoya Tower on hire last July for two months at $8,950 per day.
A London broker source told The Loadstar today the containership charter market had gone "crazy".
"It's just gone bananas," he said, "we have carrier brokers offering to outbid any other offer to get their hands on a ship and prepared to fix for three years or more at these rates," he added.
"Owners prefer to fix with the top lines like Maersk, MSC and CMA CGM etc and they will get the nod ahead of the smaller guys, but they are not prepared to give them much preferential treatment on the rates and terms," he said.
Alphaliner said that "the sky's the limit for containership charter rates".
"NOOs retain the upper hand in a charter market facing a squeeze of supply and a continuously strong demand that shows no sign of weakening in the short term," said the consultant.
Meanwhile, MSC is fighting the carrier capacity arms race on three fronts: it has an order book of 451,000 teu – 10 times higher than Maersk's and the second-largest to Evergreen's enormous 719,000 teu of new orders; it remains the most aggressive carrier in the charter and secondhand markets; and having exhausted the availability in the larger sizes is now turning its attention to the S&P market in the feeder sector.
London-based shipbroker Braemar ACM said MSC had snapped up the 925 teu 2008-built feedermax sister vessels the Perseus and the Pictor and was involved "with a number of other discussions in their final stages".
"We expect to report further MSC purchases shortly," it said.