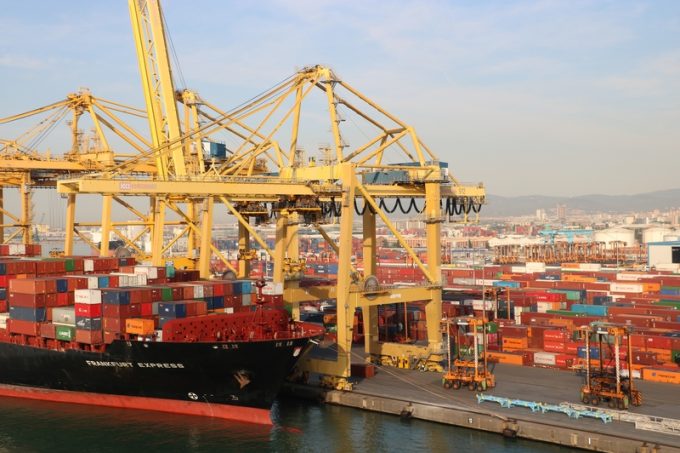 The Shanghai Containerized Freight Index (SCFI) lost a cumulative 2.8% this week as container spot rates on the transpacific and Asia-South America trades went into retreat.
The SCFI's comprehensive index is 7.2% below the level of a year ago, despite bunker costs currently at around 40% higher, evidencing the gung-ho strategy of ocean carriers which have opted for a market share grab rather than obtain sufficient compensation for the steadily rising cost of fuel.
But perhaps of more concern for the container lines is the stubbornly flat CCFI (China Containerized Freight Index), which is a much broader index based on both spot and contract rates of containers from all of the major Chinese hub ports, and is still on a par with the level of a year ago.
Where new contract rates are concerned, carriers have failed to push through increases sufficient to cover extra fuel costs – a point conceded by Maersk Line's chief commercial officer, Vincent Clerc, during the company's first-quarter results presentation.
"It has been difficult to pass on the full extent of all fuel cost increases to customers in contracts," he admitted.
Meanwhile, the Asia-Mediterranean trade appears to be proving more robust than the bigger North Europe route.
Mediterranean spot rates as recorded by the SCFI inched up 1% this week to $904 per teu, which has prompted some carriers to increase their FAK rates on the route. For instance, CMA CGM has announced higher rates covering west Mediterranean ports from 15 June at $1,100 per 20ft and $2,000 per 40ft, compared with its current rates of $1,000 and $1,800 respectively.
By comparison, the French carrier's FAK rates for North Europe are currently $950 per 20ft and $1,800 per 40ft valid until 30 June.
For North Europe, the impact of the controversial emergency bunker surcharge (EBS) seems to have run out of steam as spot rates recorded by the SCFI slid back 0.7% on the week to $870 – 7% below the level of 12 months ago.
And on the transpacific there was more bad news for carriers: spot rates on the SCFI fell 6% on the week for the US west coast and 4.4% for east coast ports to $1,358 and $2,354 per 40ft respectively.
But the biggest fall on the SCFI was on Asia to South America, with spot rates on Shanghai-Santos tumbling 8.7% during the week to $1,990 per teu, suggesting that the liner restructuring following Hamburg Süd's acquisition by Maersk has had a negative impact on the pricing for the route.