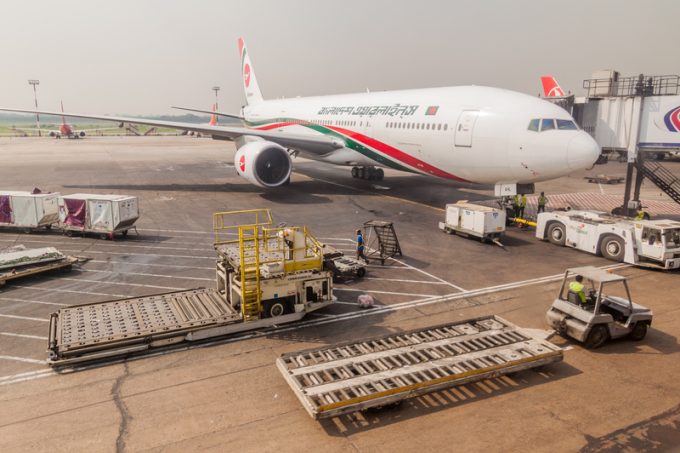 Air freight shippers in "dysfunctional" Bangladesh are facing severe congestion and rate hikes.
It follows a perfect storm of modal shift from sea freight, rising volumes and, construction work at Dhaka Airport.
Local forwarders claimed between "dozens" and "hundreds" of trucks were queueing outside the airport cargo village waiting to unload – what one called a "nightmare".
"This queue is becoming longer and longer, due to construction activities outside the cargo village. Truck turnaround time from warehouse to airport is around 16 hours, which is really impractical and not usual at all. "
He added that some airlines had cancelled or delayed flights as the wait times had meant some aircraft had had to leave the airport before they had been able to load all the cargo. He said he expected more airlines to cancel flights.
Kabir Ahmed, president of the Bangladesh Freight Forwarders Association (BFFA), explained that construction work at terminal 3 had restricted the movement of trucks, creating serious congestion at the airport.
According to the civil aviation authority, the work on Terminal 3 is scheduled to be completed by June 2023. But the development works close to the cargo village should be completed within a month.
Mr Ahmed said there were 12 unloading bays in the cargo village where trucks wait for scanning. Due to the construction, eight were closed.
"There is a scramble among freight forwarders to occupy an unloading bay for X-ray," said the local forwarder.
Mr Ahmed added: "Sometimes the freight forwarders send trucks before they are scheduled, which makes the queues longer." And he noted that from next Sunday, non-scheduled trucks would no longer be granted access to the airport area.
BAFFA warned its members that if anyone violated the rules, they would face penalties.
But it's not only construction work causing delays. One of the two explosive-detection scanners is out of order, and of the four non-regulated agent scanners, only two are in service.
In the case of high volumes of cargo, explosive-detection dogs can check an additional 100 tonnes a day. Two more x-ray machines were installed recently, but are yet to be commissioned.
The congestion comes as air freight rates soar: shippers are now paying up to $3.25 per kg to send cargo to Europe, up from $2.40 a few months back; to the US, carriers are now charging up to $6, compared with about $4 earlier this year.
Businesses cited a lack of capacity, along with rising demand, as the reason for the hikes. Syed Md Bakhtiar, VP of BAFFA, said: "Many shipments have failed due to the empty container shortage at Chittagong port," he said, adding that it had created pressure on air cargo, while high sea freight rates had driven desperate shippers to air.
"The air freight rate hike will have a severe impact on the apparel business," said Siddiqur Rahman, former president of the Bangladesh Garment Manufacturers and Exporters Association, and accused carriers of profiteering.