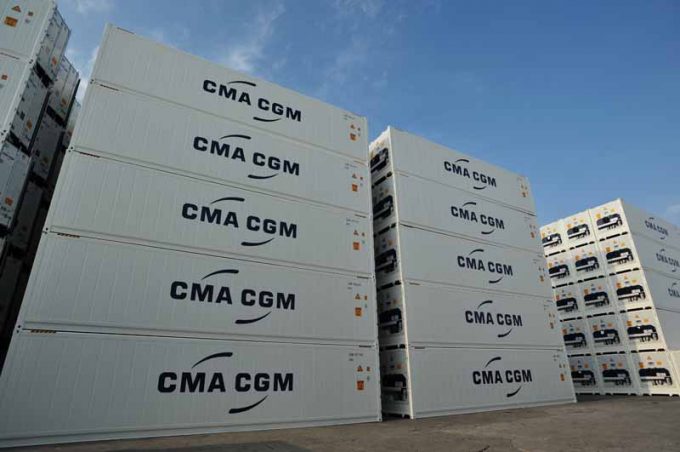 After posting a second-quarter net loss of $128m, French shipping line CMA CGM has drawn up a $1bn cost saving plan and announced delayed delivery of vessels under construction .
The "Agility" plan targets $1bn of cost savings over 18 months, which will see its network reorganised and renegotiation of its bunker, vessel charter, port, logistics and other operating expenses, as well as increasing revenue per teu through "expanding in such high value-added segments as reefer carriage".
The company also said: "In support of the Agility programme, CMA CGM has responded to the industry's difficulties by postponing delivery of certain vessels until 2017 and reducing its capital expenditure commitment."
According to vesselsvalue.com, CMA CGM has two 1,700 teu vessels due for delivery this year from China's Zhejiang Ouhua yard, and three 2,500 teu vessels from Jinhai Heavy Industry.
CMA CGM carried 3.3m teu in the second quarter, a 0.2% increase on the same period last year, with volumes up on the north-south trades but down on its east-west routes.
Revenues dropped 18.6% year-on-year to $3.3bn, and quarter-on-quarter by 6%, and it posted a core EBIT loss of $66m, excluding the contribution of NOL, which consolidated into CMA CGM's accounts from 14 June. Including NOL, the group posted an EBIT loss of $81m, compared with an EBIT profit of $325m in the second quarter of 2015.
CMA CGM group vice-chairman Rodolphe Saade said: "We are experiencing a market environment that remains difficult, with excessively low freight rates weighing on our revenue and margins. In an environment shaped by a lack of visibility, CMA CGM has the advantage of a strong liquidity position.
"The strategic relevance of NOL, fully financed, is reinforced. We are working to improve operating performance, notably via the launch of the Agility plan, which includes a programme to reduce costs by $1bn over the next 18 months, and in addition to the post-acquisition synergies with NOL."
CMA CGM, which has a history of operating its acquired assets as standalone brands, also confirmed that it would continue to operate the APL name, which it said would "serve as the core brand alongside CMA CGM on the transpacific, transatlantic and Asia-Gulf lines", while its Australian subsidiary, Australia National Line (ANL), would be "repositioned" on the Asia-Oceania trades.