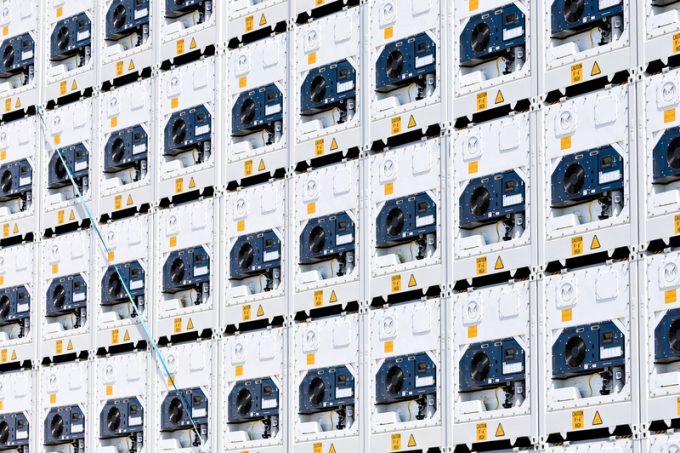 Japanese carrier ONE has joined several of its liner peers in imposing a congestion surcharge on reefer containers destined for major Chinese ports.
Moreover, some carriers are preparing to declare force majeure and leave refrigerated containers at alternative ports.
With the coronavirus outbreak showing no signs of abating in China and still severely restricting landside operations at the ports of Shanghai, Ningbo and Xingang, reefer plug-in points are in extremely short supply, obliging carriers to discharge temperature-controlled boxes at other ports.
ONE has told customers it would apply a surcharge of $1,000 per reefer container, with immediate effect, "to cover additional costs related to the unexpected but necessary arrangement of shipments, and associated plug-in charges and monitoring fees".
The carrier also said it may need to "adjust the original transport plan", which could result "in the discharge of reefer containers at an alternative port without prior notice".
ONE said it would endeavour to arrange relay of the reefer boxes to intended destinations, "subject to reefer plug availability". However, it would be encouraging customers to consider a change of destination, "especially for time-sensitive cargo such as fresh, chilled commodities".
Israeli carrier Zim and others have also announced immediate surcharges of $1,000, while CMA CGM  will surcharge its customers $1,250 per reefer container. e,
MSC said it was invoking clause 19 of its bill of lading, which potentially gives it the right to leave goods at "any place or port which the carrier may deem safe and convenient", and to receive full freight with any additional costs incurred for the shipper's account.
The Loadstar understands that other carriers could follow MSC's example if the crisis continues.
Meanwhile, insurers are bracing themselves for claims for spoiled contents in containers stuck on terminals in Asia for several weeks.
One marine cargo insurer source told The Loadstar he expected "an avalanche" of claims following the massive supply chain disruption resulting from the virus outbreak, and that, with the vast growth in reefer imports into China, potential claims "could be massive".
"Unfortunately it is not just about plugging the boxes in," he said. "A lot of the contents of reefer boxes have a shelf life and the goods will end up being destroyed and a total loss. We know from previous experience that claims can run into tens of thousands of dollars per single unit."
Indeed, the Swedish Club agreed that damage to reefer container cargo was "both frequent and costly", and because the cargo was intended for human consumption, "even minor changes in quality may cause authorities to order the complete destruction of the cargo".
In a more optimistic note, CMA CGM said today that, "subject to further review", it was planning to resume full operations at its network of offices in China from Monday 2 March.