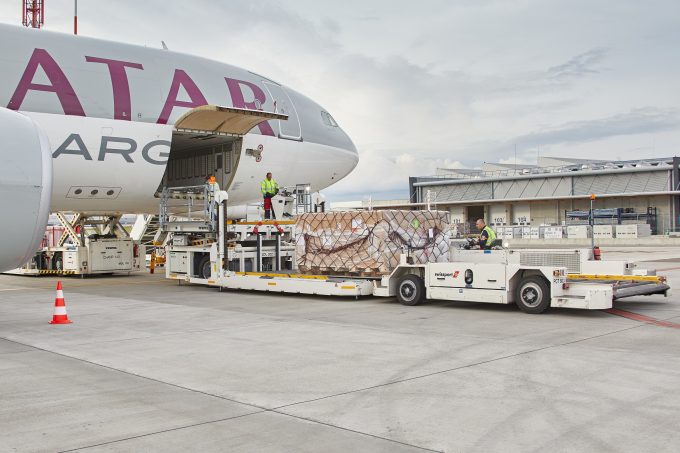 PRESS RELEASE: Doha / Frankfurt, 12 January 2021 – CHAMP Cargosystems, along with Qatar Airways Cargo and Agility has completed the first phase of the IATA ONE Record pilot to showcase the benefits and feasibility of the initiative.  
The ONE Record project proposes a solution by defining a common API (Application Programming Interface) for all electronic platforms used by various stakeholders in the supply chain involved in the data provisioning process. This standardizes the data exchange protocol in the air cargo industry and provides added benefits of better data quality, control, transparency, and ease of connectivity.
By further collaborating and leveraging new technologies, all three companies were able to achieve the first phase milestones – and support future development in the air cargo supply chain. These include the development of a respective ONE Record server by Qatar Airways Cargo and CHAMP, ONE Record server integration, data model alignment based on IATA guidelines, a customized security layer adoption, and exchange of AWB data between both servers. This phase of the pilot kicked off in February 2020 and was completed in September 2020.
Guillaume Halleux, Chief Officer Cargo at Qatar Airways Cargo said: "Digitalization is one of the key pillars of our strategy and we are modernizing all our processes to ensure efficiency, data accuracy and enhanced customer experience. I am positive that IATA's initiative will yield many returns as it unlocks the possibilities of a full digital air cargo industry where airlines, their partners and service providers can work collaboratively."
"We are proud to not only support the work of IATA – but also pull in other players in the air cargo supply chain to push the envelope of innovation," says Michael Blaufuss, SVP Air Freight at Agility. "With ONE Record, our data will have a whole new level of accuracy and benefit. We are excited to be pioneering this new frontier."
"It is a historic moment for all three of these organizations," said Nicholas Xenocostas, Vice President, Commercial & Customer Engagement at CHAMP Cargosystems. "We have found that the IATA ONE Record concept is not only practical – but will also benefit the immediate stakeholders and industry to a greater extent."
Despite the pandemic having impacted the cargo industry, stakeholders put invaluable efforts -particularly on the integration and data model front to ensure successful delivery of the first phase. This further supports the feasibility and value of implementing ONE Record elsewhere.