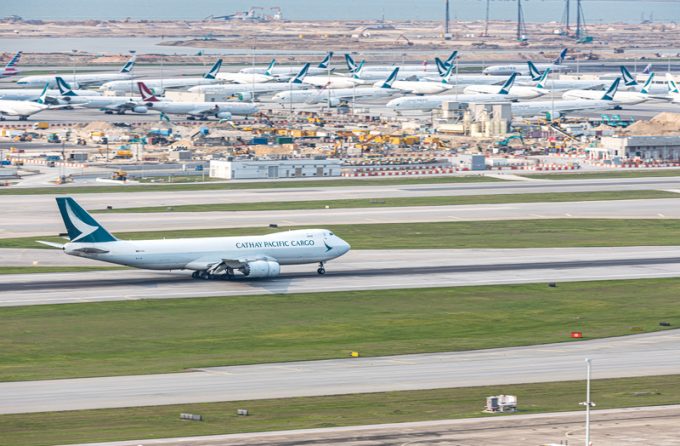 Cathay Pacific, which wants to expand its reach to South America and Africa, has assured customers that its cargo arm is focused on delivering results, but acknowledged that "gaps still need to be filled".
Tom Owens, the new director cargo – a role reinstated in August – told customers the carrier was identifying "areas of our work that need to be accelerated".
"This will largely be based around digitisation and automation, using data to get to know you and your business requirements better, as well as improving our performance and service delivery."
But he added, the carrier's ambition to become "the world's most customer-centric air freight provider" remained.
Digitisation projects include next-generation multi-dimensional track and trace and a blockchain-enabled initiative to manage ULDs.
The carrier has converted four passenger 777s to seatless 'preighters', with Mr Owens noting that it had relaunched airmail services to Australia and the UK, and launched a temporary service between Ho Chi Minh and Pittsburgh "to keep vital tradelanes open", pledging to "remain ready and willing to help in this peak season".
But Mr Owens said the cargo business needed continuous improvement.
"Things are not standing still; we need to be agile and open to change in order to prosper. The cargo world seems to be ripe for change too, whether it's to speed up, to automate, or to increase the value added to the global supply chains.
"A final lesson is that we need strong relationships with our customers. Our goal is to ensure customers regard us as a forward-looking and helpful partner in solving their problems."
He said digitisation was critical: "The industry is still notoriously paper-heavy, and manually intensive. We are keen to support IATA's One Record and to pursue our own goals around automation. Digitisation is a massive area of focus, given the opportunity to make better-informed decisions when data is easily accessible and relatable."
Cathay is currently operating 20 freighters in an endorsement of its decision to invest in them when other carriers got out of the market. It said it would look at expansion opportunities in its network which it could quickly "snap up", pointing out that the pandemic had created "short-term opportunities because of the imbalance between capacity and demand".
And it said it would like to be stronger in Africa and South America, and that it would consider investing in regional freighters to serve the intra-Asian market.
Mr Owens concluded that "it is not going to be a straightforward ride" and that international trade would be unlikely to grow as fast, in the short-term, as before.
"But it is a volatile world and, in cargo, things change pretty fast."