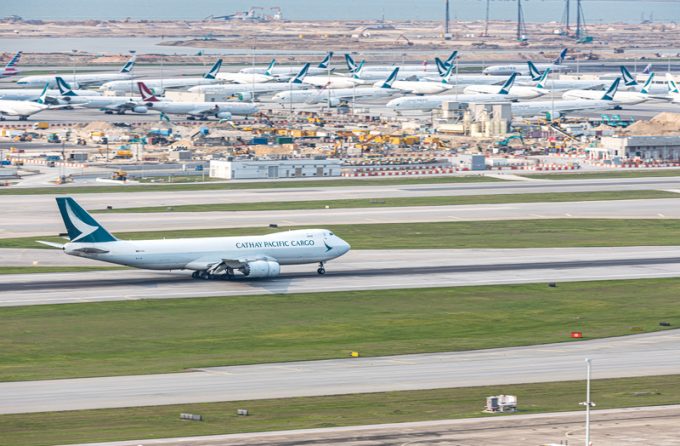 Hong Kong's strict zero-Covid policy has triggered a 21-day quarantine for 130 Cathay Pacific Cargo pilots, prompting the carrier to consider relocating staff overseas, temporarily.
Hong Kong's chief executive, Carrie Lam, said yesterday the cargo pilots had to be quarantined after three tested positive on their return from Frankfurt.
She told local media: "If there are a couple more of these incidents, we will run out of cargo pilots."
Ms Lam said there were no plans to tighten rules for aircrew, citing the need to keep air, sea and land cargo connections open.
However, Cathay has reportedly already changed its self-isolation rules for pilots, requiring them to quarantine for three days, and is also considering the contingency relocation plan.
A spokesperson told The Loadstar: "We are exploring options and seeking expressions of interest from pilots to participate in temporary extended roster patterns, which involve a series of duties from outside Hong Kong, lasting between two and four months."
Cathay did not comment on the 130 quarantined pilots, but the spokesperson said the airline was "trying our best to maintain our cargo network", adding: "We are fully committed to protecting and enhancing Hong Kong's aviation hub status and to keep the flow of people and cargo between Hong Kong and the rest of the world moving, despite the challenging circumstances presented by the pandemic."
Gary Lau, chairman of the Hong Kong Association of Freight Forwarding & Logistics (HAFFA), said the quarantine of Cathay's cargo pilots would "inevitably cause less manpower and capacity."
He added: "Therefore, we foresee that the space availability will further be tightened, resulting in cost increase for shippers."
Indeed, according to the South China Morning Post, FedEx has closed its Hong Kong pilot base due to the quarantine rules, with the carrier claiming "there is no clear timeline" for returning to normal. FedEx had already relocated 180 pilots from Hong Kong to California at the start of the year.
Meanwhile, Cathay also released its October traffic figures today, which show some positive cargo news for the cash-strapped airline.
Cargo volumes increased 19.8% year on year, to 136,949 tonnes, although this was a 25.2% decrease on the same period of 2019, with overall cargo capacity at 70% of pre-pandemic levels.
Chief customer and commercial officer Ronald Lam said air cargo demand had "continued to strengthen" last month, the carrier operating "record high" numbers of cargo-in-cabin 'preighters' and cargo-only passenger flights.
He added: "South-east Asia in particular performed well, with robust exports of consumer products and industrial parts. Return traffic from the Americas and Europe also gathered momentum.
"The exceptionally strong cargo season we are experiencing so far, together with our continued focus on effective cash and cost management, have led to a positive impact on our operating cash burn. This is to the extent that we have been able to achieve close to operating cash breakeven from July to October."