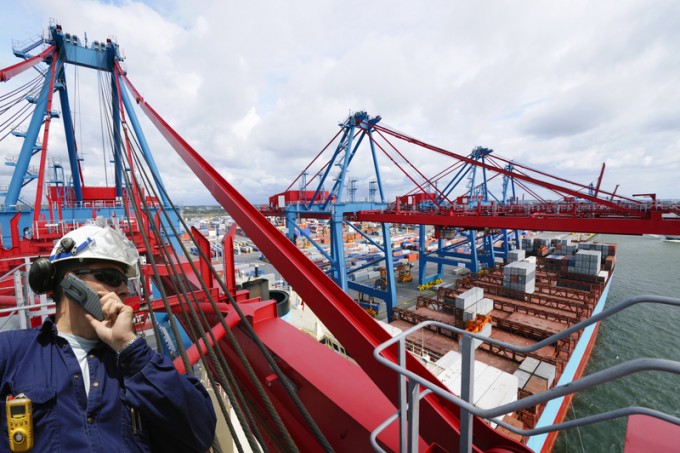 Asia-North Europe container spot rates slid back below $700 per teu this week– and it is the carriers' own fault, say their customers.
But carriers, with full ships just ahead of the peak season, will hope the dip is temporary and that GRI and peak season surcharge gains will be evident in the next weeks.
However, customers on the trade have described the decline as carrier-driven and "nuts".
"They are responsible for their own meltdown," said one, "with a lack of USPs in the market, they use the main one they have to hand – price. It's not really supply-demand related; just market habits."
The Shanghai Containerized Freight Index (SCFI) was published early this week, due to a Chinese two-day holiday today and tomorrow.
The North Europe component declined by 13.7% from last Friday to $657 per teu, while to Mediterranean ports there was a fall of 11.4% to $788 per teu.
Alphaliner said last week carriers had been "generally successful with their efforts to push-up Asia-Europe rates", and with capacity tight, the consultant expected spot rates for North Europe to stay above $700 per teu, at least until the finish of the peak season.
A carrier source told The Loadstar this morning he thought this week's SCFI dip was "merely a blip", and had more to do with this week's timing of the index.
Commenting on the reported improved health of the tradelane, he said his westbound ships had been running full for several weeks and that cargo was being rolled-over every week, confirming recent comments from Maersk Line executives.
He added that the container line's sales reps were now spending most of their time revisiting contract cargo customers to ink new deals, rather than "chasing around looking for last-minute boxes", and thereby dragging down rates – a view that is contradicted by spot market forwarders.
The SCFI recorded further dips in spot rates for the US west coast this week – down 4.8% to $811 per 40ft – and a 2.1% decline for US east coast ports, down to $1,649 per 40ft.
Following the announcement from the G6 carriers on Monday that it was temporarily suspending its transpacific CC1 string, Alphaliner said carriers were planning the suspension of further Asia-US east coast loops, beginning with an Ocean 3/Hamburg Sud service at the end of June.
The consultant said that these moves by carriers to cut capacity on the transpacific at the start of the traditional peak season were "unprecedented", reflecting the very weak market conditions on the tradelane.