Perishables will help support new carrier Cargolux China's business, as it plans to focus on transpacific and intra-Asia routes when it launches in late 2017, it was announced today.
Speaking at Air Cargo China in Shanghai, Cargolux president and chief executive Dirk Reich said the new joint-venture airline would initially focus on transpacific routes between China and the US for 80% of its business, and that the schedule would include the first-ever Cargolux connection with Australia, at Melbourne.
Cargolux China will operate three 747 aircraft but has plans to expand to five within three years.
"When it comes to aircraft four and five, the idea is to continue down into South America and to link China with Africa, besides adding more transpacific flights," Mr Reich said.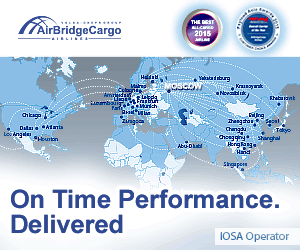 Cargolux will own 35% of the JV, with 65% controlled by Zhengzhou-based Henan Civil Aviation and Investment Co (HNCA), which itself has a 35% stake in Cargolux. Cargolux China will receive $220m in initial funding, which includes $77m from Cargolux.
The JV will build upon the carrier's milestone of reaching 100,000 freight tonnes on the route between its Luxembourg and Zhengzhou hubs, which comes just eight months after hitting the 50,000-tonne mark last October.
Cargolux now operates seven weekly flights between its "dual hubs", as well as flights from Zhengzhou to Milan, Kuala Lumpur, Singapore and Chicago. Overall, the airline operates 100 weekly flights into mainland China.
A key strategy is to duplicate Cargolux's European door-to-door road distribution strategy into China, which the carrier says is a key differentiator between it and other cargo airlines. Cargolux currently has access to significant numbers of 65, trucks in Europe, carrying 440,000 tonnes last year.
"Today in China we already have 21,000 tonnes on 3,360 trucks going to 32 cities. Last year we had a growth rate of 400% compared with 2014 and we plan going forward to expand our road network to at least 50 destinations," Mr Reich said.
Zhengzhou will be at the centre of this expansion. Its Xinzheng International Airport is one of China's fastest-growing and most important aviation hubs, Mr Reich said, with cargo volumes increasing from 85,800 to 403,000 tonnes between 2010-2015.
"Zhengzhou is at the crossroads of important highways and railways in China; ideal for building up a logistics hub," he said.
Mr Reich said that perishables was a key growth import market for Zhengzhou, noting that Cargolux currently operated 100 charter flights a year of cherries and blueberries from Chile to Luxembourg and on to China. Cargolux China could operate this directly.
Zhengzhou currently has only a 1,000sq metre perishable logistics capacity, but will begin building new facilities in July which will eventually lead to 100,000sq m capacity.
"There's fish coming: lobster, salmon, lots of produce. And Zhengzhou has decided to develop into a major perishable logistics hub, and we are 100% convinced it will do so."
Zhengzhou could also be on the brink of becoming a major automotive hub. Mr Reich said that, since April, two German car manufacturers had teamed up with DB Schenker to consolidate cargo in Luxembourg and then transport the spare parts needed in China to Zhengzhou, which will act as a distribution hub.
He added: "That opens the door for more discussions with other car companies and spare parts manufacturers, and the next stage you will see is automotive warehousing and logistics activities in Zhengzhou."