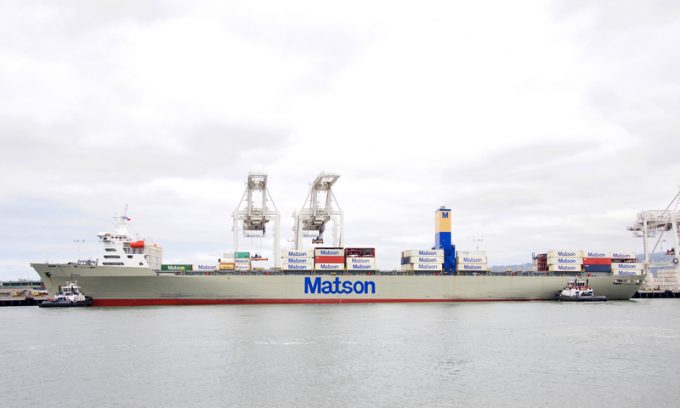 US flag-carrier Matson reported net income for the first quarter of $87.2m, compared with just $3.8m for Q1 20, thanks to "continued significant demand" for its services to China.
"Our financial performance in the China service was the primary driver of the increase in consolidated operating income," said CEO Matt Cox.
Matson's CLX and CLX+ loops connecting China with the US west coast saw a huge 219% increase in liftings over the same period of last year, and "achieved average freight rates considerably higher than a year ago".
Mr Cox added: "We also expect demand in the transpacific tradelane to remain favourable as elevated consumption trends, including heightened e-commerce activity, are expected to continue beyond the second quarter."
And he expected "significant demand" for China-US services "to remain throughout the peak season into late October".
Matson's container volumes to Hawaii increased slightly, by 0.6%, dragged down by the negative effect of reduced tourism, but supported by higher demand for home improvement goods.
Liftings for Guam increased 2% quarter on quarter, while volumes for Alaska declined 4.9%, which the carrier said was primarily due to one fewer sailing.
Matson operates a fleet of 27 ships for a capacity of 62,622 teu and is ranked 23rd in Alpahliner's top 100 carriers.
Nine of the vessels are chartered-in, of which six are deployed on the service to China, but CFO Joel Wine told investors and analysts attending its interim results webinar that, despite big hikes in charter hire, the services ex/to China were still highly profitable.
And Matson appears to have been very proactive in its assessment of the increased equipment requirement on the trade.
"We got out early on ordering additional equipment and chassis, before everyone else realised the potential strength of this market, and we have been acquiring additional containers and chassis ahead of when we needed them, and that has put us in really good shape," said Mr Cox.
"We have not lost a single booking because we have not had a container, nor have we missed a voyage since the beginning of the pandemic," claimed the CEO.
Mr Cox said he thought the carrier's domestic trades were "at the beginning of a recovery" and, in answer to a question on freight rates, he confirmed that Matson had achieved "significant increases" from 1 May for BCO annual contracts from China that make up just under half of its business.
Meanwhile, Matson's larger ocean carrier rivals are coming under increased pressure from US agricultural exporters they claim "are declining to ship US agricultural commodity exports from US ports and imposing hundreds of millions of dollars of punitive charges already determined to be unreasonable by the FMC".
A letter sent yesterday to US secretary of transportation Pete Buttigieg, signed by 300 exporters, complains that carriers are continuing to send empty containers back to Asia rather than make them available for loading exports.
"The situation is exacerbated by carriers' failure to provide accurate notice to our exporters of arrival/departure and cargo load times, and then imposing draconian financial penalties for 'missing' those windows," reads the letter.
"We need action now; not additional studies," demand the signatories.