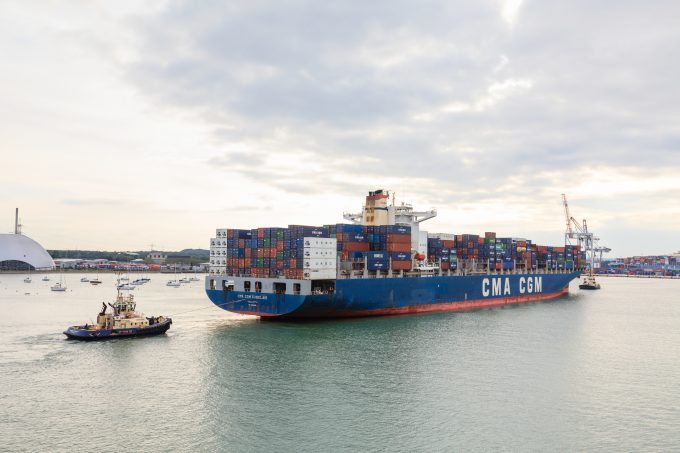 Athens-based non-operating containership owner Danaos Corporation said today it expected container trade demand would surpass supply growth next year.
During its third-quarter results presentation, chief executive John Coustas was bullish on the sector's outlook, attributing the improving prospects to a combination of low orderbooks and the indirect windfalls for shipowners from the IMO's 0.5% sulphur cap on marine fuel that comes into effect on 1 January.
"We are aligned with the shipping analyst reports, and our expectation is that container trade demand growth will outpace supply growth for the first time in almost 10 years," said Dr Coustas.
He noted that the IMF was currently forecasting global GDP growth at 3.5% for next year, while analysts predict container trade expansion slightly higher, at 4%, compared with the growth in capacity, which is not expected to exceed 3%.
"Market participants, mainly liner companies, have generally remained reluctant to place newbuilding orders until the US-China trade talks are settled and the IMO regulations come into effect," he said.
The lack of newbuild deliveries next year, together with the decrease in the containership fleet due to the retrofitting of scrubbers, would, according to Dr Coustas, continue to underpin the charter market next year.
NYSE-listed Danaos reported that the containership charter market had "strengthened considerably during the last six months", particularly for vessels over 5,500 teu – albeit, it said, there had also been an improvement in charter rates for panamax vessels.
"Larger vessel classes have seen the greatest downtime (due to scrubber retrofitting) and we expect this to continue through 2020 and help to contribute to a healthy charter market. This coincides with improving underlying market demand supply fundaments," said Danaos.
During Q3, Danaos operated an average of 55 ships, ranging from 2,200 teu to 13,100 teu, which were generally fixed long-term with liner shipping companies.
Fleet utilisation during the quarter stood at 98.7%, which compares with 97.4% for the same period the previous year.
Net income for Q3 was $37.9m from operating revenue of $111.8m, and $110.7m for the nine-month period from $337m of revenue. As at 30 September, the total contracted revenue covered by charter parties stood at $1.4bn.
As a consequence of improved daily hire rates, the asset value of Danaos's fleet has increased from $1.1bn in January to $1.38bn, according to the latest data from vesselsvalue.com. As an example, the asset value of the 13,100 teu Maersk Exeter, on long-term charter to Maersk, has jumped from $75m to $85m.
In terms of adding ships to its fleet, on 2 October, Danaos completed the purchase of the 2005-built 8,100 teu Conti Champion from German shipowner Reederei NSB for a price of $25m. The vessel is expected to be delivered by the end of May and it is understood that a long-term charter has already been agreed with a major container line.