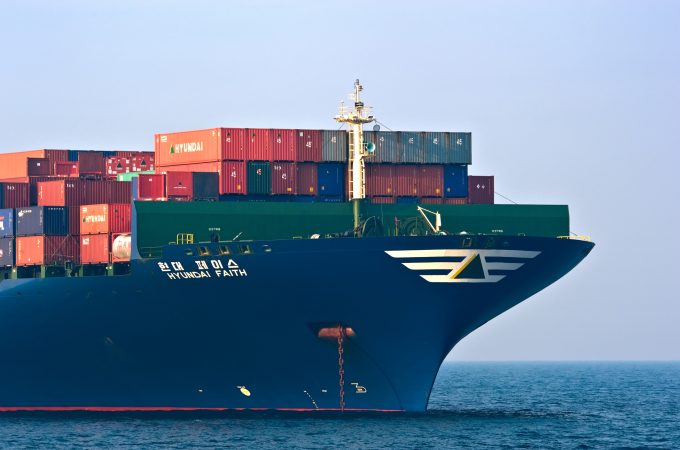 The continuing game of musical chairs going on among container shipping lines took another twist today, after troubled South Korean container line Hyundai Merchant Marine revealed that it is in discussions to join the 2M Alliance.
The development comes as a surprise, given that hitherto HMM had openly stated its desire to open talks with a view to joining THE Alliance – comprising Hapag-Lloyd, Yang Ming, Hanjin, K Line, NYK and MOL – which is due to form when their respective participation in the CKYHE and G6 groupings concludes in April next year.
With the industry reorganising itself into three major alliances – the third is the Ocean Alliance grouping of CMA CGM, COSCO-China Shipping, OOCL and Evergreen – HMM had previously been left out in the cold as it has had to undergo a very public financial restructuring.
An HMM spokesperson said: "The 2M carriers and HMM are ideal partners as we can work together in order to create a great synergy for the alliance by supplementing each company's operation."
The 2M Alliance is comprised solely of the two largest shipping lines Maersk and MSC, which signed a 10-year agreement in 2014, and operates a combined capacity of around 2.1m teu across the Asia-Europe, transatlantic and transpacific trades.
Maersk Line chief operating officer Søren Toft confirmed that talks were underway: "We can confirm that we – 2M – are in discussions with the Korean container shipping line Hyundai Merchant Marine on the possibility of HMM joining the 2M vessel sharing agreement (2M VSA) when their membership of the G6 alliance expires in 2017.
"We are positively reviewing the proposition. The inclusion of Hyundai Merchant Marine in 2M would, for example, provide us with extended coverage and a stronger product in the Transpacific trade.
"It is early days. Therefore, we do not wish to comment further before there are more substantial developments in the discussions," he said.
The HMM spokesperson added: "A potential cooperation with 2M will allow for HMM to reduce costs, strengthen its service competitiveness and achieve operational efficiencies together with the 2M VSA network.
"For the 2M carriers, a partnership with HMM can provide major benefits such as reinforcing the alliance's service competency in Asia and improving network cover in the transpacific area by utilising HMM's current routes," the HMM spokesperson added.
Alan Murphy, chief executive and partner of liner shipping analyst SeaIntel, told The Loadstar: "For 2M it is all about increasing their market share on Transpacific, where HMM will give them access to a greater number of services and corridors, while the impact to the existing 2M will likely be minimal."
According to Alphaliner data, between January and May this year Maersk transported 471,000 teu on the transpacific, a rise of 8% year-on-year; MSC saw an 11% increase to reach 400,000 teu, while HMM saw a 1% increase to carry 245,000 teu.
However, despite Maersk and MSC being the third and fifth largest transpacific carriers respectively, the 2M is well behind the CKYHE and G6 alliances in terms of capacity operated on the trade.
2M offer a weekly capacity of around 60,000 teu to both the US west and east coast from Asia. In comparison the CKHYE offers around 160,000 teu capacity on a weekly basis, and the G6 partners around 140,000 teu.
My Murphy also suggested the existence of the negotiations indicated that HMM's financial difficulties may well largely be behind the carrier.
"It is hard to imagine that Maersk Line and MSC would not conduct extensive due diligence of the risks related to the viability of HMM. So while there are no guarantees that the expansion would go through, the announcement is a major boost for the perception of HMM's future viability," he said.