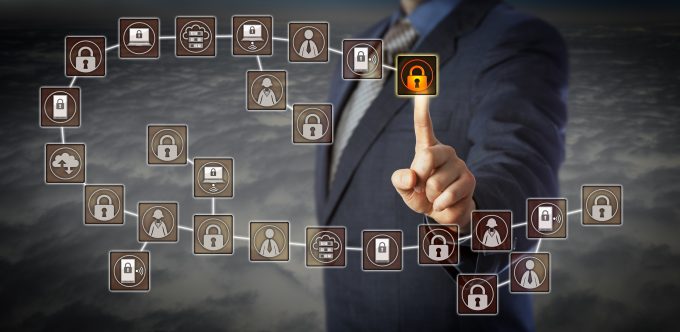 Blockchain is on the threshold of a bright future in perishables logistics, according to MarketsandMarkets.
A report published by the research firm predicts that the blockchain market in the agriculture and food supply chain will reach a volume of $948m by 2025.
Propelled by concerns about food safety, the use of the technology in the sector will show a compound annual growth rate of 48.1%, the authors believe. They anticipate the fastest momentum happening in North America.
Commodity Forwarders, a Kuehne + Nagel company that specialises in moving perishables by air, has not seen a lot of demand for blockchain so far, reported Chris Connell, senior vice-president, perishables, North America.
"From an airfreight component, not much specific talk on blockchain," he noted. Interest has come largely from a small number of customers that have larger, sustained volumes to justify the need for data to be filled in from many decentralised points to build up an end-to-end narrative, he added.
The largest proponent of blockchain in the logistics arena has been TradeLens, the venture between Maersk and IBM run by GTD Solution Inc. While IBM is reportedly cutting back its investment into blockchain, TradeLens is one of the largest hyperledger platforms on the scene, according to GTD marketing manager Ben Haddock.
TradeLens started implementing workflows last year and introduced the TradeLens eBL, a digital bill of lading solution. In the three months since its launch, it has been used to digitise hundreds of transactions across a dozen users in 15 countries, Mr Haddock reported.
Both the network and the user ecosystem have shown growth, he added.
"We continue to expand our network of directly connected ecosystem members. Since autumn we have integrated over 20 ports and terminals, as well as 20 inland depots, for example," he said, adding that the user ecosystem of TradeLens eBL and of the TradeLens Core offering (for data, visibility and collaboration) have both expanded.
He said the Covid-induced lockdowns had increased interest in digitised solutions, particularly in the chemical, automotive and forwarding sectors, he noted.
GTD is bent on continuing the expansion of the network this year, with a particular focus on China and on terminals owned by CMA CGM and by MSC, Mr Haddock said.
At the same time, the firm is working on advancing the technology. Currently, TradeLens is live for single transfers, like straight bills of lading and telex releases, but pilot projects are in progress for complex financial transactions, he revealed.
In the air cargo arena, Cathay Pacific has blazed a trail with the adoption of blockchain technology for its ULD management.
After trials in 2018 and 2019, the airline rolled out the technology last year, starting with its Hong Kong base and extending it to the international arena. Tom Owen, director of cargo, reported that the technology had reduced costs and complications associated with managing ULDs.
Beyond the technological improvements and the clear trail of custody that blockchain establishes, Mr Haddock also sees momentum for blockchain from "the dynamics" it can introduce to business.
"One of the benefits of blockchain we often refer to is being able to help companies do business together that might otherwise have very little trust. Blockchain is a technology that allows them to conduct business with one another to build trust across the ecosystem," he said.
These developments suggest considerable progress for blockchain in the logistics world. Whether this momentum will reach the growth rate predicted in agriculture and food chains remains to be seen.