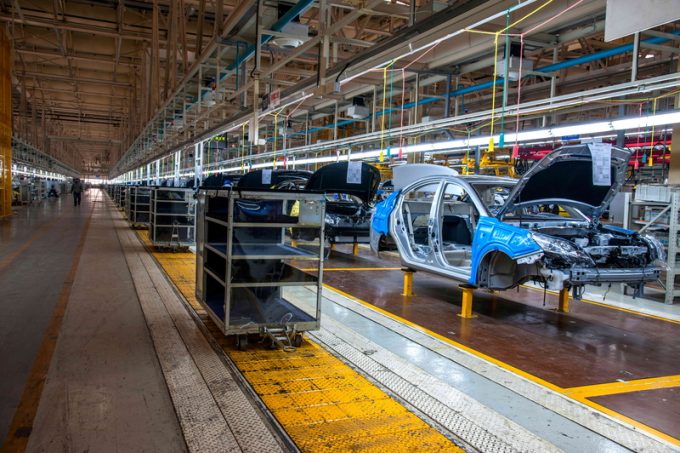 Elon Musk has declared himself ready for a High Noon-type stand-off with officialdom.
Having sued Alameda County for upholding the lockdown on his car factory and threatening to move his HQ to another state, the founder of Tesla tweeted on Monday that the company would defy the order and restart production, adding that he would "be on the line with everyone else".
Other carmakers are getting back into action. Mercedes and BMW have already re-opened plants in the US south-east, while Hyundai, Toyota, GM, Ford and Chrysler have announced that their North American factories would resume operations this month.
So Mr Musk is anxious to get vehicle production back on track; Tesla's California factory has been idle since 23 March, while his workers in China, due to return to work on 6 May after a national holiday, were told to come back on Saturday, for unexplained reasons.
The Covid-19 pandemic has hit the automotive industry hard. US car production in March was 1.7 million units, down from 2.62 million the previous month, and European output was down by at least 1.2 million vehicles by late April.
The WTO, which predicts global trade to shrink this year, foresees the most pronounced contractions in the electronics and automotive sectors. Indeed, US auto sales were almost 40% off the pace in March. In China, vehicle sales fell as much as 80% in February.
Projections for the remainder of the year are grim. Meticulous Research predicts a 12-15% dip in global sales for the year, which translates into a $5.7bn impact on the auto industry.
These numbers are in stark contrast to projections last summer – with corresponding ramifications for the automotive logistics sector.
Last June, Global Market Insights was predicting the automotive logistics market would climb from $115bn a year to $170bn by 2025, thanks to escalating vehicle production and registrations around the globe and increasing demand for service parts availability and strong after-market supply chain networks.
Eleven months later, there are question marks over how long it will take automotive supply chains to get going again.
The complexity of these supply chains – thousands of parts from a multitude of suppliers – is a massive headache. Many involved are small firms, and it is unclear how many of them will have survived the crisis – the loss of a few small manufacturers can paralyse vehicle production. In February, Fiat Chrysler announced a temporary halt in car production in Serbia, as it was waiting to get parts from China.
And the US restart looks set to be hampered by the ongoing lockdown in Mexico, which is a major supplier of parts. Some pundits have warned that it could take months for auto supply chains to be fully functional again.
What complicates the process further is that the industry was already in a transition process before Covid-19 struck: partly the result of the slow transition to electric and hybrid vehicles and partly due to changes in production with the accelerating introduction of new technologies like drones and AI-based mapping.
These developments will likely reinforce the automotive industry's growing reliance on 3PLs, which have assumed a larger role as carmakers have looked to streamline their logistics, according to Global Market Insights.
They may have a balancing act on their hands. In the wake of the US-China trade dispute, the impact of Covid-19 has reinforced misgivings about global supply chains, giving rise to warnings that the emphasis on cost reduction and speed, which had so far prevailed, must be balanced with a strengthened focus on safeguarding against such disruptions.
On the other hand, manufacturers are eager to leverage strengths in some regions for other markets. One airline executive reported a relatively steady stream of test vehicles moving between Brazil and Europe and noted that the South American market was characterised by smaller, lighter vehicles with lower fuel consumption, which could be of growing interest for European buyers.
Still, global automotive traffic had shown weakness well before Covid-19. Airborne imports of auto parts into the US were down 36% last year and a number of European manufacturers – including Volkswagen and Volvo – were planning to cut costs and jobs last year, while similar announcements came in February from Mercedes, Jaguar and Renault.
"We noticed in the fourth quarter that tier-one and -two companies were slowing down and we have seen a reduction of parts going into North America," said Guido Gries, MD of Dachser Americas.
And Carsten Hernig, vice-president Latin America & Caribbean of Lufthansa Cargo, added: "The industry is in a phase of re-orientation and supply chains are affected."
A stark illustration is the saga of the vessel Jupiter Spirit, which arrived at the port of Los Angeles on 24 April with about 2,000 SUVs and sedans from Japan. It was ordered to drop anchor about a mile offshore, where it languished for almost a week. Storage areas near the port were full of imported vehicles, with more gathering dust at dealerships across the US.
Still, Mr Musk is impatient to build cars again and has declared himself ready for arrest if law enforcement were to arrive at the Tesla factory in California.
However, Alameda County officials, whose stance the car mogul had branded "fascist", seem less bent on confrontation. According to a CNN report, they  were "continuing to work with Tesla in an agreed-upon plan to safely reopen the factory" and expressed hope that Tesla would comply without further enforcement measures.