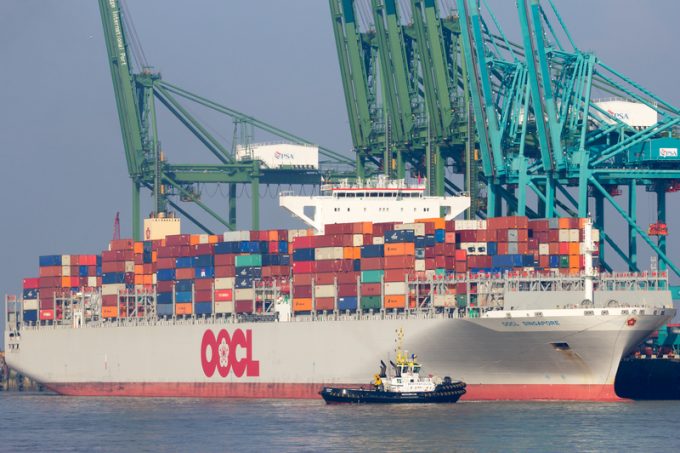 More evidence has emerged on how differently the three main container shipping alliances on the Asia-North Europe trade are to manage capacity for the remainder of the year.
According to new data from SeaIntelligence today, the 2M and Ocean alliances had been quick off the mark early in the year to make drastic capacity cuts in weeks five and six. The 2M partners reduced capacity by over 50%, compared with that week in 2019, while the Ocean Alliance reduced capacity by around 45%, year on year.
THE Alliance reduced capacity by 29% in week five and by 38% in week six, but has since maintained a relatively stable capacity offering.
However, over the next two months, while the 2M partners will see year-on year-capacity reduced by 24% and THE Alliance's offering will be cut back by 24%-27%, the Ocean Alliance will reduce capacity by a far modest 14%-18%.
"The Ocean Alliance's cumulative capacity reductions by week 40 are the lowest of the three alliances, and by quite some margin," SeaIntelligence CEO Alan Murphy said. "This is a trend we also see on the Asia-North America east coast and Asia-Mediterranean trades.
"As we have noted on several occasions, there is no logical basis to suggest that the Ocean Alliance would be impacted differently. Which makes these developments a bit curious, especially since this is not a trend that we saw in 2019 either."
According to eeSea data, this will also result in a change in market share on the trade: currently 2M deploys 41% of headhaul capacity, with the Ocean Alliance providing 38% and THE Alliance the remaining 21%.
Next month that will change, with 2M maintaining a 41% market share, with Ocean Alliance moving to 40% and THE Alliance reduced to 19%.
In September, the Ocean Alliance is set – according to current schedules – to operate 39% of capacity, with 2M reduced to a 36% market share and THE Alliance on 25%.
However, assuming that the 2M partners reinstate the AE2/Swan in October, as originally planned, the 2M partners will once more be the leading vessel-sharing agreement, with 44% of operated capacity.
Meanwhile, last week, just two further Asia-North Europe blank sailings were announced by carriers, SeaIntelligence noted.
Mr Murphy said: "The fewer new blank sailings does not mean demand has come back to normal, as it dropped by 15.9% year on year in April and 11.4% in May, but rather that the carriers seem to believe their current blank sailings programme is adequate – aggressive even, considering that a host of blank sailings have been reinstated in recent weeks."