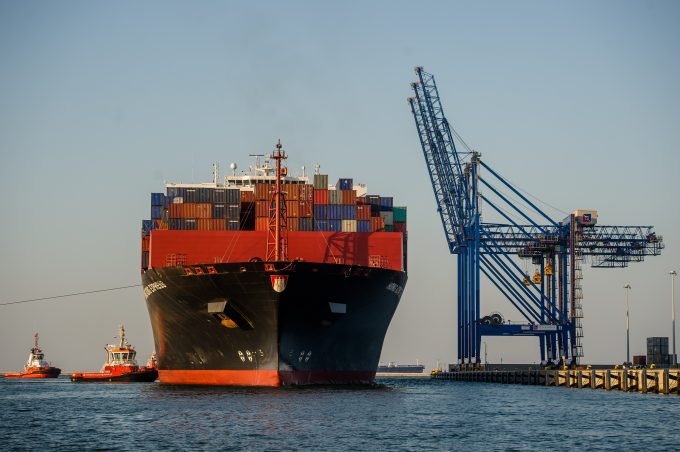 Container spot rates between China and North Europe soared this week on the back of 1 May general rate increases (GRIs), strengthening demand and concerns over the financial stability of ocean carriers.
The Asia-North Europe component of the Shanghai Containerized Freight Index (SCFI) leapt $461 to $732 per teu – a massive 170% increase on the week.
And spot rates to Mediterranean ports, which had not eroded as badly in recent weeks, jumped 138%, or $547 per teu, to $944.
The spot rate surge to North Europe was surprisingly high, given that Maersk Line, for instance, only set its 1 May GRI at $550 per teu, a hike almost achieved this week, pre-implementation, potentially paving the way for another significant increase in June.
The increase is timely given that Maersk Group will announce its first-quarter results on Wednesday, when it is widely anticipated the container division will post its second consecutive quarter of losses.
According to analyst Jefferies International, the company is predicted to report one of its worst quarters since 2009, with both Maersk Line and Maersk Oil loss-making on the back of rock-bottom freight rates and oil prices.
The significant boost in spot rates, if sustained, could boost contract rates that are an essential part of profitability for Maersk Line and its peers.
And James Frew, senior analyst at research and consultancy firm Maritime Strategies International, believes there is "positive news on the demand front" for Asia-Europe carriers. He described vessel utilisation levels in April as being "not bad", with the container lines also doing a good job in restraining supply.
Mr Frew views the rationalisation of the current four alliances into three larger groupings as a good move to ensure the stability of the east-west trades, and says it would give the members of those alliances the opportunity to achieve sustainable freight rates on the major trades.
In regard to carrier consolidation, he described the proposed merger between Hapag-Lloyd and UASC as "a brilliant move", but, conversely, characterised the financially stressed South Korean carriers, HMM and Hanjin Shipping, as "close to being basket cases", with the three Japanese container lines as having "challenging decisions to make".
One UK shipper told The Loadstar this week he was "increasingly worried" at the parlous state of some container lines and was being more selective on booking his containers. He added he was avoiding certain carriers and their alliance partners altogether.