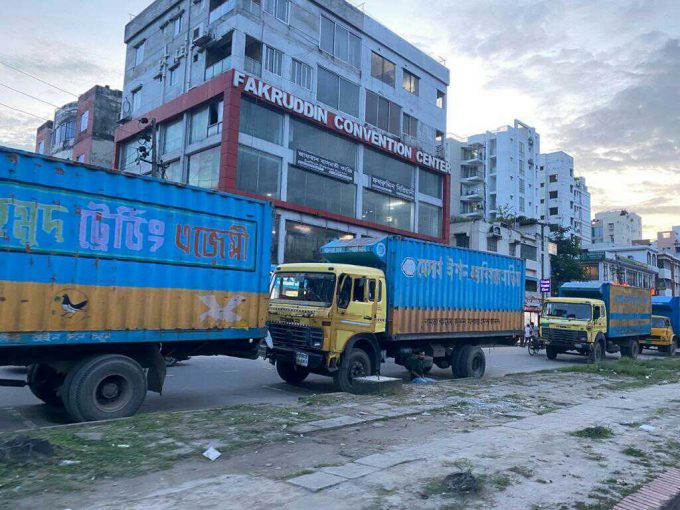 Some 200 vehicles are waiting outside Dhaka's Hazrat Shahjalal International Airport, which is undergoing a perfect storm of construction works, high export demand and failing scanners.
Kabir Ahmed, president of the Bangladesh Freight Forwarders Association (BAFFA), said due to the absence of scheduled flights, exporters were almost fully dependent on freighter aircraft, which are not operating regularly to the country.
"This has caused a congestion of cargo at the airport," he told The Loadstar.
Mr Ahmed said the peak season for Bangladeshi exporters, combined with congestion at seaports, had resulted in increased demand for air cargo. And construction-led delays have not been helped by the malfunction of the explosive detection system (EDS), he added.
BAFFA VP Syed Md Bakhtiar said this morning he saw nearly 200 vehicles waiting outside the airport to enter the cargo village.
While there is demand for 800 tonnes of airfreight capacity each day, the scanner malfunction and fewer flights meant only about half that can be shipped, which, he told The Loadstar, was "creating severe congestion in the cargo village, as well as at the nearest highway".
However, after a three-and-a-half-month suspension, the export of fruit and vegetables through Chittagong Airport to the Middle East has resumed. Bangladesh Biman will operate a Dhaka-Chittagong-Dubai service carrying 21 tonnes of vegetables a day to the United Arab Emirates.
In the absence of flights from Chittagong since mid-April, local exporters have struggled to send perishables by air. International flights have remained suspended owing to increasing numbers of Covid-related infections and deaths.
Mahbub Rana, president of the Chittagong Fresh Fruits, Vegetables and Allied Products Exporters Association, said two Dubai-bound flights by Biman Bangladesh Airlines will leave Chittagong on Tuesday and Saturday. From tomorrow, two weekly flights will also carry vegetables to Muscat, he said.
Air Arabia airlines will operate another flight from Chittagong on Wednesday to Abu Dhabi, he added.
Mr Rana said before the pandemic, on average, some 15 tonnes of fruits and vegetables were exported daily through Chittagong Airport. But flight suspensions saw Chittagong-based exporters sending just a few tonnes a day, using Hazrat Shahjalal International in Dhaka.
However, exporters said the shipment costs for fruit and vegetables had risen significantly compared with the pre-pandemic period, and they have demanded Biman Bangladesh lowers freight rates.
One exporter said that before the flight suspensions, the freight rate per kg for vegetables going to the Middle East from Chittagong was $0.66, and was now $1 per kg.
"The exporters will suffer unless the freight rate is lowered," he said.