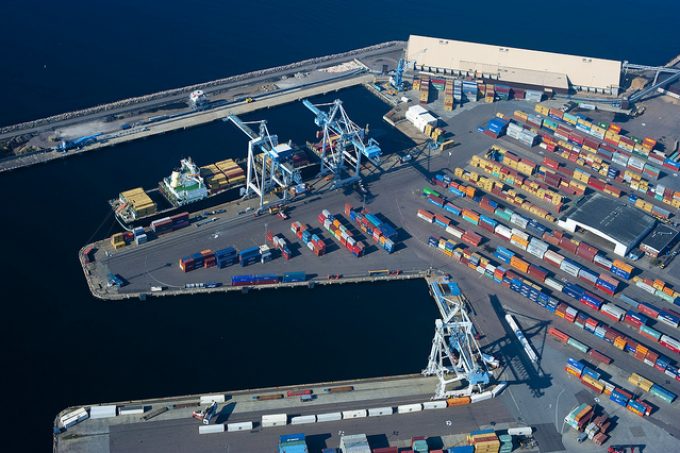 APM Terminals is to make more than a third of its Gothenburg terminal workforce redundant.
The announcement follows the loss of substantial volumes due to the labour unrest that has engulfed the facility over the past year.
It said it had decided to cease night-time operations at the terminal and switch to a two-shift (from three) working day. This will mean 160 employees out of 450 will lose their jobs.
APM Terminals Gothenburg chief executive Henrik Kristensen said: "This has been a difficult but necessary decision. We are in a critical situation, where targeted blockades and strikes have been crippling our operation for over a year now, and where we have lost several of our customers.
"We are now faced with the necessity of winning back confidence and reshaping our operation to the current volume."
He added: "For our long-term survival, we see no other option than to make major changes to our operation, win back the confidence of customers and be a stable employer for the benefit of our workforce and our owner."
The terminal said the move to day-only operations would "ensure direct calls will have the best possible conditions" in a terminal that normally handles 50% of Sweden's box traffic.
For over a year, management has been locked in a dispute with the Swedish Dockworkers Union Section 4, which wants to be part of the collective bargaining agreement (CBA) APM Terminals holds with the Swedish Transport Workers Union (STWU).
However, unlike the STWU, Section 4 is neither a part of, nor recognised by, the Swedish Trade Union Confederation and, despite meeting over 70 times since April last year, often with mediators, agreement has not been reached.
Sammy Blom, national products director ocean freight and intermodal services at Geodis Wilson, which controls around 12% of Swedish ocean container movements, said the short-term impact of the redundancies on goods movements was likely to be limited.
"Due to the current strike/lockout, only a small portion of our volumes are moving over Gothenburg, A large portion of the volumes are moving via alternate ports and means of transport.
"Helsingborg has seen as dramatic increase in volume, and although it has been able to cope for a longer period of time, its infrastructure does have its limits and we have anticipated that it would become congested at some point.
"We are currently moving volumes via Malmo with other carriers, as such we already have intermodal solutions in place," he added.
However, a customer advisory from Maersk at the end of last week suggested that Helsingborg was now suffering "severe congestion", while a further advisory this morning said Malmo was quickly also becoming congested and an extra vessel it had deployed, the 1,700 teu  Bomar Victory, was "not able to discharge all units as planned yesterday".
He said: "We have managed to secure extra capacity in Gothenburg tomorrow that will allow us to discharge the majority of the cargo, but there was not sufficient capacity in Gothenburg to allow all units to be discharged."
Instead, the carrier has added a new call at Norway and is preparing to transfer containers overland.
"Bomar Victory will therefore call at Fredrikstad in Norway today and discharge the remaining units. We will contact all customers directly to inform where their cargo will be," it said.