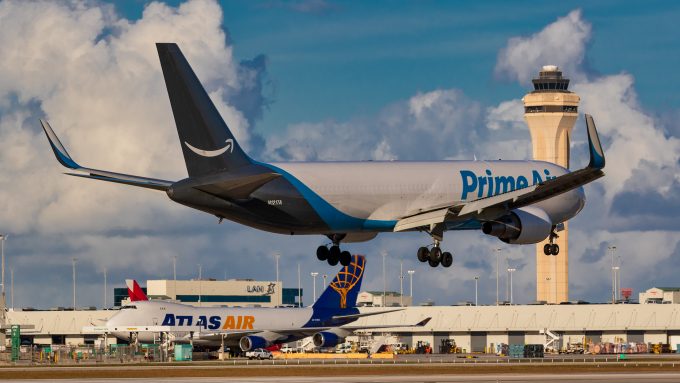 The headwinds Amazon is contending are also buffeting its air cargo capacity providers: Air Transport Services Group (ATSG) faces the prospect of up to eight of its 767 freighters in service for the e-commerce giant being jettisoned this year; while Sun Country reported reduced income from cargo operations for Amazon in Q4.
In an outlook guidance for changes in its operating fleet, ATSG says Amazon has opted to extend the leases of four 767-200Fs, set to expire this year, into 2024.
Altogether there are 12 ATSG 767Fs flying for Amazon whose leases come to an end this year and ATSG is planning to scrap three as they are reaching the end of their service lifespan.
The aircraft provider notes that Amazon may not extend the leases on five units and, in that event ATSG would either re-lease them elsewhere or sell them.
ATSG and sister company ABX Air currently operate 49 767 freighters for the e-commerce firm, which altogether has 110 aircraft in service – most of them leased.
As usual, Amazon has not commented on the issue, which obscures the outlook for the future set-up of its fleet.
Last autumn, it signed a deal for Hawaiian Airlines to fly ten A330 freighters to be leased from Altvair. At the time, Amazon said these would be replacing ageing 767s and were earmarked to move cargo between the major Amazon fulfilments centres in the continental US and Hawaii.
However, the timetable for this year suggests they will not constitute a straightforward replacement, as Amazon is scheduled to receive two A330s this year, while as many as eight 767s may exit the fleet.
ATSG has indicated it believes Amazon is actually scaling back its air cargo capacity. In its outlook guidance, it notes that management expects to operate 767 freighters assigned to Amazon and DHL at reduced schedules, with less flight time per aircraft.
"Both companies are adjusting their ground and air distribution and fulfilment networks in the US to conform to reduced economic growth and consumer spending levels in the first half of 2023," says ATSG.
This would be in line with recent developments at Amazon. The company has been in retreat since last summer, when it decided to close or cancel completion of 44 warehouses, following a $3.8bn loss in the first quarter of 2022. This was followed by news of major job cuts. It did not provide any numbers, but observers expected to see about 10,000 redundancies. At the beginning of this year, news of plans for an even larger cull surfaced, pointing to more than 18,000 job cuts.
Amazon's results for 2022, which were released on 2 February, show a $2.7bn deficit for the year, suggesting further cutbacks may well be on the cards. CEO Andy Jassy told analysts in the earnings call the company needed to increase productivity in the links between its fulfilment and transport networks.
He was referring explicitly to fulfilment and final-mile operations, but the rapid expansion blamed for excess warehouse capacity and labour also played out in the build-up of the company's freighter fleet.
Further evidence of a readjustment of Amazon's freighter activities comes in the balance sheet of Sun Country, which operates a fleet of 737Fs for the e-commerce firm. Its Q4 22 results show a 1.8% decline in cargo block hours and a 4.6% drop in revenue from cargo.
Atlas Air, meanwhile, is in the process of de-listing, and has only submitted a short 2022 full-year earnings forecast. It did not specify Amazon, a major CMI customer, but it expects adjusted ebitda to fall between 14% and 17.5%. Among other issues, it noted "a reduction in less-profitable smaller-gauge CMI service flying …In addition, net income and adjusted ebitda were negatively impacted by lower aircraft utilisation…"
The Chaddick Institute for Metropolitan Development at DePaul University has been tracking developments at Amazon's freighter fleet. Institute director Prof Joseph Schwieterman said: "The addition of planes seems to have abruptly stopped, except for India. The system has plateaued, suggesting that the company is exerting great caution, going forward."
Amazon's flight expansion was already slowing last summer, Chaddick found. Flight activity from March through August was up 3.8%, compared with 14.3% growth in the previous six months.
Mr Schwieterman would not be surprised by further deceleration, explaining: "It takes months to right-size an airline when recession hits. We could see some moves over the next few months."