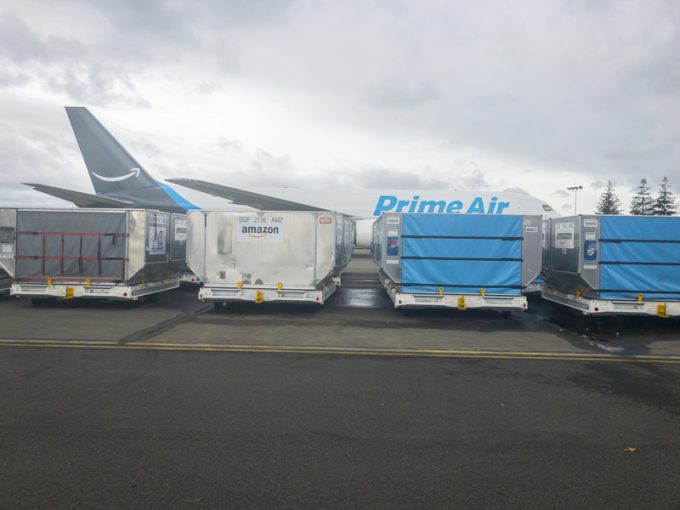 Amazon is set to boost its freighter fleet to more than 85 aircraft by the end of next year.
In addition to the roll-out of a dozen 767-300 freighters leased from ACMI provider ATSG, the e-commerce giant is bringing in 11 more 767Fs.
But, unlike Amazon's traditional leasing approach to building a dedicated air network, the 11 new 767s are outright purchases: four from WestJet and seven from Delta Air Lines.
The move is no surprise, though. The writing has been on the wall since last August, when Amazon registered a 767 freighter in the Federal Aviation Administration's database and reserved four more registration numbers for future aircraft.
Sarah Rhoads, vice-president of Amazon Global Air, said: "Our goal is to continue delivering for customers across the US in the way that they expect from Amazon, and purchasing our own aircraft is a natural next step toward that goal.
"Having a mix of both leased and owned aircraft in our growing fleet allows us to better manager our operations, which in turn helps us to keep pace in meeting our customer promises."
The emphasis on serving customers suggests Amazon is not looking to sell capacity on its freighters to third parties. One senior executive of a freighter airline commented that the number of planes Amazon was adding should be accommodating its growing volumes without taking business away from its existing capacity providers.
And Joseph Schwieterman, director of the Chaddick Institute for Metropolitan Development at DePaul University, Chicago, who has been tracking the e-commerce giant's air operations, added: "There is no sign that their rate of growth is easing up. If anything, they're bulking up to offer next-day delivery, which is a Herculean task."
Amazon's volumes have been growing at a frantic pace. Its Prime Day in October alone generated over $10bn in sales, 45% more than the previous year, and it claims it delivered billions of items over Christmas. This growth is in stark contrast with the prospect of ongoing capacity shortage. At the same time, plenty of aircraft are available for conversion as airlines shrink their fleets, and there is no shortage of furloughed pilots looking for work.
Economic conditions and fuel costs are also favourable, Mr Schwieterman noted.
The aircraft shopping spree is centred on the North American network. Amazon opened a European hub at Leipzig last year, but for the time being at least management seems content with leased equipment there and declined to comment.
In the US, Amazon has its major hub in Cincinnati due to come on stream in the summer and, in the spring, a west coast hub in San Bernardino should be ready.
Some observers regard the $1.5bn Cincinnati facility as a game-changer that may lead to Amazon's air operations close to resembling those of FedEx and UPS, but Mr Schwieterman has doubts.
"I still don't think we'll see a FedEx-style overnight hub," he said. Amazon has added cities to its network at a brisk pace, but serves some of these on a periodic basis, which suggests dynamic scheduling to reposition inventory rather than scheduled network design.
"It seems algorithms are driving flights based on needs rather than a FedEx-type schedule," he added.
And unlike the integrators, Amazon does not need flights from all over the US to converge on a hub during the night. For next-day e-commerce traffic, the company can operate its flights through the day, he said.
The four 767s from WestJet will enter service this year and the seven from Delta will follow in 2022. Amazon will not operate the planes itself but use one or more undisclosed CMI operators. Traditionally it has relied on Atlas Air and ATSG, but there are doubts that they will be chosen.
There are rumours that the fractious relationship of Atlas Air with its pilots' union has soured Amazon's enthusiasm for expanding with the leasing firm. The e-commerce behemoth raised eyebrows at the end of 2019 when it picked Sun Country Airlines, a small passenger operator, to run a fleet of 10 737 freighters for it. At the time, Atlas parent Atlas Air Worldwide Holdings and the union were locked in a bitter court dispute.
And Amazon may spring an even bigger surprise than the aircraft purchases when it announces the designated operator(s) of its own 767 freighters.