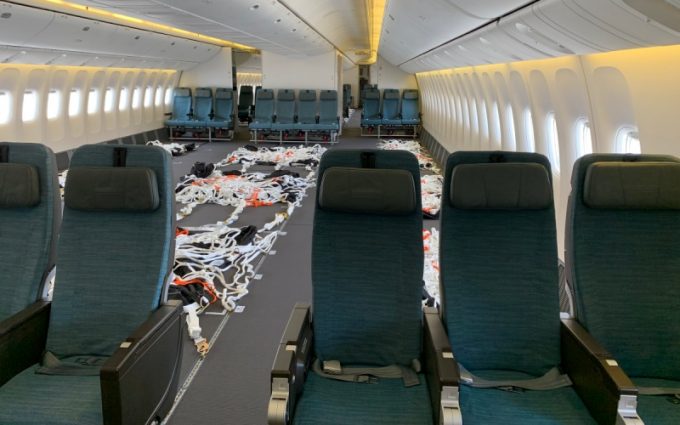 Forwarders are reporting a rise in air freight rates as June comes to an end, with many anticipating a strong demand pick-up in August.
While routes from Asia to the US have stayed stable, with both e-commerce and stock replenishment driving demand, Europe has been somewhat flat.
"Air freight to Europe has been quiet for a few weeks, but rates haven't dropped for at least two or three weeks – until now, which means it had hit the bottom for airlines," said a Shanghai-based forwarder.
"Now rates have started to pick up from today everywhere; there are general rate increases from major airlines. I assume it's for two major reasons: there is more cargo; and capacity is reduced.
"The US market has been quiet as well, but about two weeks ago rates started to increase."
He added: "The typical peak season over the past decade has been from the middle of August until the middle of December. If lockdowns are over, we can expect a busy Christmas this year."
One UK-based forwarder agreed, and said he too was beginning to see higher throughput.
"We have certainly seen over the last couple of weeks an increasing volume of cargo flowing through from the Indian subcontinent regions, whereas China/Hong Kong have remained relatively quiet in comparison, and the rate levels are reflective of that.
"But I definitely think it will be a very busy market, come August, on air freight from Asia globally – all the signs and forecasts are there."
Hactl, Hong Kong's major handler, told The Loadstar it was a difficult market to predict.
"Business at Hactl remains positive with stable numbers of freighters, as well as 'passenger-freighter' operations continuing to replace bellyhold capacity lost due to reduced passenger flights schedules," explained CEO Wilson Kwong.
"At the same time, cargo volumes are influenced by increasing e-commerce traffic, as well as urgent stock replenishment on key tradelanes like the US. We believe the latter is being caused at least partially by capacity and schedule problems in ocean freight, along with widespread port congestion.
"May and June are normally a slack period, but this year the situation is somewhat different. The overall cargo market has remained strong and constant over the past few months. We saw a slight growth in May, although June has been looking less buoyant.
"The whole situation remains very fluid, with many factors at play, so it's difficult to identify real trends as yet, or their causes."
While several carriers have begun 'reconverting' passenger aircraft for normal operations, some Asian carriers are converting more for cargo operations. Airasia now has eight dedicated to cargo operations and Cathay Pacific said today it was adding two more passenger 777s to its cargo fleet, in anticipation of the 'peak'.
"While our passenger network is slowly growing, with an expectation that we will offer around 30% of our normal capacity by Q4, that still leaves a shortfall in vital belly space against anticipated demand for the peak," said George Edmunds, general manager cargo commercial.
"We are addressing these capacity concerns by converting two more of our B777 passenger aircraft into cargo-only freighters, by removing seats from the economy class cabins. These will support our post and general cargo shipments around the Asian region."
The move will bring its passenger-freighter fleet to six. The two aircraft will be flown to the HAECO engineering facility in Xiamen, where the seats will be removed and stored, allowing for another 12 tonnes of cargo onboard. The aircraft are expected to operate mainly around the Asia Pacific region and transpacific routes, noted Cathay.
"The aircraft will enable us to carry more general cargo from South-east Asia, particularly Vietnam, and the Chinese mainland. They will also help support Hong Kong Post," said John Cheng, head of cargo markets and products.
"This business tends to be shipments that are ideal for passenger cabin loading because of their size and general cargo nature, which fit with the restrictions of what cargo can be carried in the passenger cabin. These two aircraft will offer additional capacity and the agility to contend with sudden spikes in demand."