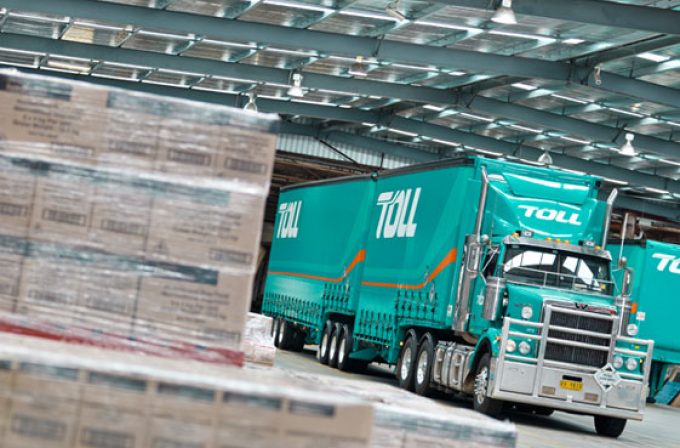 Toll Holdings is to make a further 1,700 staff redundant, after owner Japan Post Holdings yesterday announced its first annual net loss in a decade, estimated at ¥40bn (US$363m).
Japan Post, which acquired Toll in May 2015 for $5.1bn, is expected to book an impairment loss of ¥400bn, for the year ending March 31.
The company had originally forecast a ¥320bn profit for the year and, at the time of the takeover, promised no major job losses.
The company said the financial results of the logistics business was "expected to fall sharply…due to a sharp fall in commodity prices and a slowdown in the Australian and Chinese economy".
Japan Post changed Toll's senior team in January, making 300 managers redundant, and is now seeking further cost reductions through more redundancies, cost centralisation and "unification of divisions".
Toll's business is divided into the ANZ domestic network, global forwarding and contract logistics. Japan Post attributed the decline in profitability to poor performance in the first two divisions. It told investors: "Weaknesses, such as a lack of cost competitiveness were not apparent."
It added that Toll had "an inefficient way of managing businesses, such as multiple business units competing with one another to get their own business partners, while sales are declining due to the slowdown of the Australian economy".
And, it said Toll had "redundant operations by independent business units and the high ratio of fixed costs". Weaknesses including the lack of integration of back-office operations and lack of a centralised IT system.
Toll's EBIT for the third quarter of 2017 is expected to be significantly lower than in the previous financial year.
Following an impairment test based on current forecasts, an impairment loss of ¥392.3bn for all balance of goodwill and trademark rights, and ¥8bn for tangible fixed assets (a total of ¥400.3bn) are recorded as an extraordinary loss at the end of March 2017.
Alessandro Pasetti, financial columnist for The Loadstar, commented: "This is typical. It confirms Japanese companies take very seriously their capital deployment strategy in M&A only after deals are done, rather than at due diligence stage."
Japan Post was criticised for its high spend on Toll in 2015. But as one US hedge fund consultant told The Loadstar at the time: "The [Japanese] don't care about the cost of capital – trust me, virtually nobody in Japanese management pays much attention to that. If they write the cost of capital down to zero, so what? They can go back and ask shareholders to bail them out."
At a press conference, Japan Post Group president Masatsugu Nagato said Toll will still remain a "core unit".
"The price we paid for Toll was high," Mr Nagato said. "The writedown is intended to wipe the slate clean."
He added that despite the challenges at Toll, Japan Post was "constantly looking out for other acquisitions, including those beyond the logistics sector".