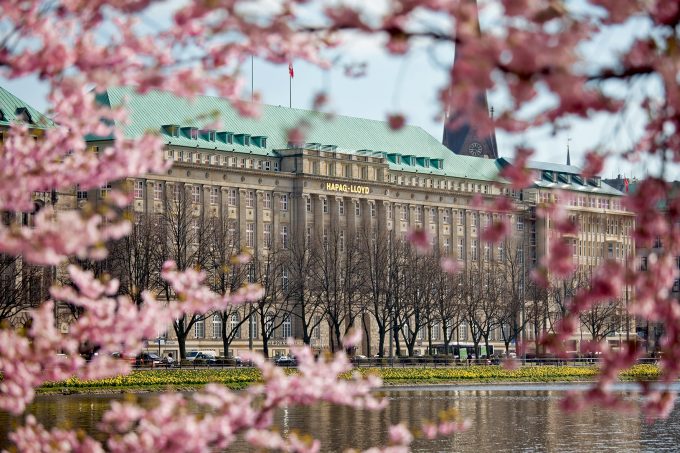 Hapag-Lloyd recorded a net profit of $109m in the first quarter as the carrier benefited from increased volumes and average freight rate gains on most of its liner trades.
The result compares with a loss of $42m in Q1 18.
"Thanks to higher transport volumes, better freight rates and a strong US dollar, we achieved a good result and got the year off to a very decent start," said chief executive Rolf Habben Jansen.
However, the company expects Q2 to be somewhat tougher.
"I would not be disappointed if the result was a little bit lower in Q2; that would still be in line with our expectations," he said during this morning's earnings call.
Q1 liftings increased by 2.4% on the previous year, to 2.9m teu, while the carrier's average freight rate jumped 4.9% to $1,079 per teu, resulting in a revenue increase of 8% to $3.5bn.
Although transpacific volumes in the quarter were flat, compared with the previous year, at 450,000 teu, Hapag-Lloyd's carryings between Asia and Europe and on the Atlantic increased by 7%, to 556,000 teu and 470,000 teu respectively.
Mr Habben Jansen said there had been a "reasonable recovery" post-Chinese New Year, adding "we are starting to see signals that demand is picking up".
He added: "I don't see anything abnormal in the market right now, that's why I say that it will pick up in the next four to six weeks."
Hapag-Lloyd is forecasting demand growth of 4% this year, which is more optimistic than some of its peers, including Maersk.
In terms of contract rate increases, the German carrier said it had achieved uplifts of "$50-$100" per teu for Asia-Europe, and Mr Habben Jansen revealed that transpacific contract hikes were in the region of "three digits per teu".
He said that just over 50% of the carrier's transpacific trade was carried under contract, whereas between Asia and Europe that number drops to "around 25%", adding that globally the spot market accounted for 60%-65% of cargo carried.
Notwithstanding the lack of clarity on the premium for low-sulphur fuel required to comply with the IMO's 0.5% sulphur cap on bunker fuel from 1 January next year, Hapag-Lloyd said it continued to budget on a price differential equating to around $80-$100 per teu.
The carrier claims it has been successful rolling out its MFR (marine fuel recovery) programme across all its regions and that "there is an understanding from shippers that they must pay more".
Only 10 of its owned fleet of 112 vessels will be fitted with scrubbers to allow them to continue to burn cheaper heavy fuel oil after IMO 2020, and there will be just one of its 15,000 teu ULCVs, inherited from its merger with UASC, converted to run on LNG as a trial, due to the $25m estimated cost of each retrofit.
On the subject of French and Greek government proposals to the IMO for an almost immediate mandatory speed limit on vessels to cut greenhouse gas emissions, Mr Habben Jansen said there "aren't enough ships to really steam a lot slower".
And he summed up: "We are cautiously optimistic about 2019, despite slightly dampened forecasts for global economic growth and higher fuel prices… Q1 was in line with our expectations and we believe we can make further progress towards our strategic objectives."