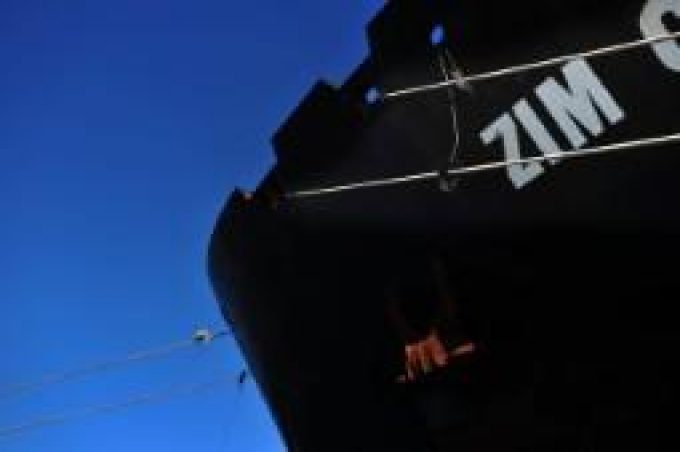 Israeli carrier Zim has agreed 12-year charters with non-operating containership owner Seaspan for ten 15,000 teu LNG-fuelled vessels. 
The ships will be constructed at the South Korean yard of Samsung Heavy Industries, which will commence deliveries in the first half of 2023. 
Zim said the vessels would be deployed on the Asia-US east coast trade, where it has a vessel-sharing agreement with the 2M Alliance. 
President and chief executive Eli Glickman said the deal represented "a milestone agreement". The introduction of the dual-fuel ships would allow the carrier to "meet growing market demand" on the route as well as "meeting customer demand to reduce CO2 emissions". 
According to eeSea data, 2M partners Maersk and MSC, in partnership with Zim, offer seven weekly loops from Asia to the US east coast, four via the Panama Canal and three via the Suez Canal. 
Currently, the biggest ships deployed on the loop, dubbed by Maersk as its TP12, MSC the Empire and Zim the ZBA, have an average vessel size of 11,173 teu. 
Zim is currently ranked 10th in the ocean carrier league table, with a capacity of 386,653 teu on 89 vessels, of which 87 ships are chartered in. 
After previous failed attempts, Zim went public on the New York Stock Exchange on 29 January, with an IPO price of $15 per share. After initially collapsing to around $11, the stock has recovered to over $18, boosted by stellar results being reported by its liner peers. 
For the third quarter of 2020, Zim reported a net profit of $144m and $156m for the nine-month period. It is expected to publish its Q4 and full-year results in the coming days, and these are likely to show further improvement in profitability. 
SeaIntelligence's Lars Jensen said Zim's long-term charter meant "Maersk is now the only global carrier without any new orders for fleet renewal in the large vessel segment". 
During Maersk's annual report presentation last week, CEO Soren Skou said the company "was still working out what is the best fuel for us for the future", adding that it was concentrating its research on ammonia and other similar fuels. 
Mr Skou has said previously that Maersk did not regard LNG as a long-term option. Nevertheless, led by CMA CGM, carriers are increasingly turning to LNG as a "transition fuel", with for example, Hapag-Lloyd opting for LNG for its December order of six 23,500 teu ULCVs. 
The ten 15,000 teu ships Seaspan has commissioned for charter to Zim are its first LNG-powered vessels. The NOO also recently confirmed an order for two 24,000 teu scrubber-fitted ULCVs for 18-year charters with a "leading global liner customer" after delivery in the first half of 2023. 
According to Seaspan, as of 30 September last year, its fleet consisted of 127 vessels, for around 1.1m teu, with a total contracted revenue of $4.1bn, making it by far the largest operator in the sector.