March was a good month for the air freight business. Crucially, yields turned a corner and went up 1.7% in US dollars – or 5.6% when measured in euros – according to WorldACD's latest figures, published this morning.
Chargeable weight saw a 14.6% increase, year-on-year, with origin Europe and origin Asia Pacific traffic up an impressive 19%. Direct tonne km – WorldACD's new metric, combining weight with geographical distance between origin and destination – rose 16.4%.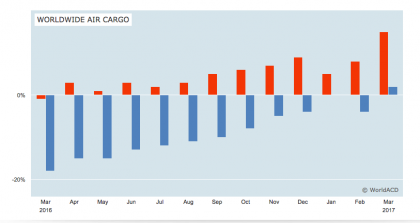 The analysts pointed out that several key hubs, including Hong Kong, Shanghai, Beijing, Guangzhou, London, Milan, Frankfurt and Chicago, all saw growth of more than 20%.
"Contributing elements seemed to be sea-to-air shifts and the launch of new consumer products," according to the analysis.
"A few other factors also helped to realise this unusual year-on-year growth. Especially in Europe, volumes tend to be lower around Easter (last year in March, this year in April). Also, March 2017 had one more Friday (usually one of the top cargo days) than March 2016. Without these two factors, the March 2017 YoY growth would have been around 11%.
"We expect April will be another very good month, but, in view also of the Easter effect, YoY growth may stop around 10%."
WorldACD also wondered whether the first 100 days of Trump had had any effect on air cargo. If it had, it wasn't particularly good, with the first-quarter performance of the US airlines "way behind all other regional carrier groups".
While revenues to the US grew more than any other destination region, up 14.7% against a worldwide average of 8.5%, revenues out of the US went up just 2.3%.
Airlines from Asia Pacific and the Middle East saw the largest overall growth in cargo products, up 12% and 9% respectively.  European carriers had the greatest tonnage in perishables and dangerous goods, but the highest growth was from US carriers in the same sectors and vulnerable cargo, while the African carriers almost doubled their dangerous goods and grew 40% in perishables – albeit from a low base.
Meanwhile, a slew of first-quarter airline results have been announced.
Cargo carrier group West Atlantic saw losses rise an unhappy 65%, to Skr81.8m (US$9.2m) with revenue and the number of cargo flights falling. It noted fewer BAe advanced turboprop freighter flights, with large numbers of its fleet now parked, and it also lost a Swedish postal contract. It said it was looking for new markets outside of Europe, where growth was better.
Finnair reported an €8m loss, a significant improvement on last year's €15.1m loss. Cargo revenue fell 1.2%, to €39.2m, on volumes down 2.9% to 31,987 tonnes. Available cargo tonne km fell by 5.1%, but revenue cargo tonne km decreased by only 3.3% owing to higher cargo load factors. Average cargo yields increased slightly, by 1.7%.
Aeromexico saw revenue rise 17.5% to MXP14.2bn ($757m), with a particularly good result in cargo, with first-quarter revenues up 27.9% to MXP963m. However, overall, the carrier made a loss of $13.8m, which it blamed on a 64.4% increase in fuel prices combined with a depreciation of 12.5% of the Mexican peso against the dollar.
And the Chinese carriers also issued Q1 results – most reported declines in profits on the back of higher fuel prices.