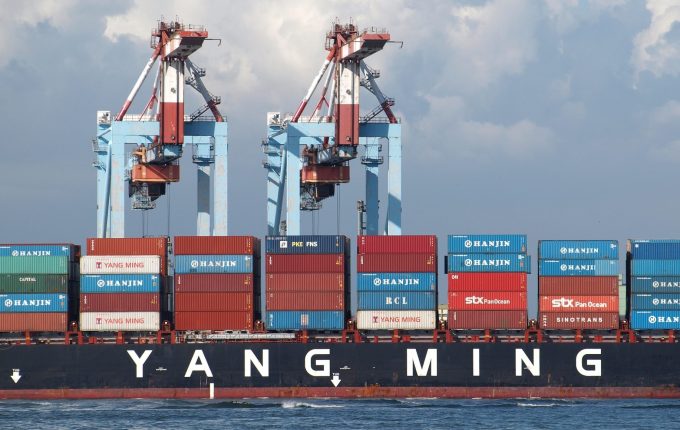 Taiwanese ocean carrier Yang Ming recorded a net loss of $30m in the third quarter.
This leaves Hapag-Lloyd as the only vessel-sharing partner of THE Alliance in the black.
Yang Ming attributed the negative result – which extends its losses to $220m for the nine months – to "an unfavourable supply-demand balance with weakening freight rates and escalating bunker prices".
Year-to-date, Yang Ming's volume jumped by 11% to 3.92m teu, compared with 2017, but its revenue only improved 4% to $3.45bn, suggesting that it has sought market share at the expense of freight rates.
The result must be particularly disappointing for the Taiwanese carrier, given that fellow alliance member Hapag-Lloyd posted a $137m Q3 profit "on the upper end of its expectations", in what would appear to have been a better-than-expected quarter for the liners.
In contrast with the German carrier, Yang Ming does not seem to have benefited from the chaotic start-up of the Japanese K Line, MOL and NYK's consolidation into the third THE Alliance member, Ocean Network Express (ONE).
ONE slumped to a net loss of $192m in its fiscal second quarter blamed on "lower liftings, higher empty repositioning costs and a shortfall in expected cost saving". The Japanese equity holders of ONE have issued a profit warning for their liner activities and now expect a loss of $600m for the first year of operation of the merged container businesses.
However, Yang Ming said its outlook for Q4 was "optimistic".
It said freight rates on the transpacific "should improve", due to the rush by Chinese shippers to beat the US 25% tariffs on a wide range of consumer products, expected on 1 January.
"In the Asia-Europe sector, Yang Ming also expects to see improving rates and volumes," said the line. "Responding to many uncertainties faced by global shipping throughout 2018, Yang Ming has made adjustments to strengthen its strategies."
These include optimisation of its intra-Asia service network and measures designed to "improve its cost structure" and "effectively navigate the continuing challenges and risks facing the shipping industry".
Yang Ming said it intended to charter four 14,000 teu vessels next year and return seven "higher-cost" chartered-in ships to owners.
Last week, it was announced that Yang Ming was joining the four members of rival Ocean Alliance, along with four container terminal operators, to form a consortium to develop Global Shipping Business Network (GSBN), a blockchain-enabled platform designed to help digitise the industry.
Yang Ming's participation in GSBN will bring the carrier closer to compatriot Evergreen, fuelling speculation that the profitable container line will eventually take the ailing Yang Ming in a merger, similar to the Japanese carriers and the Chinese state-owned Cosco and China Shipping Container Line.
Meanwhile, boosted by "Hapag-Lloyd's earnings momentum", analyst Jefferies has upgraded its Q3 earnings estimate for market leader Maersk, which reports on Wednesday.
Noting that container freight rates have recovered to "their highest level" since 2014, and that Maersk management advised in August that its operating costs were "back under control", Jefferies is now projecting a third-quarter ebitda improvement of 14% for the Danish transport and logistics group.