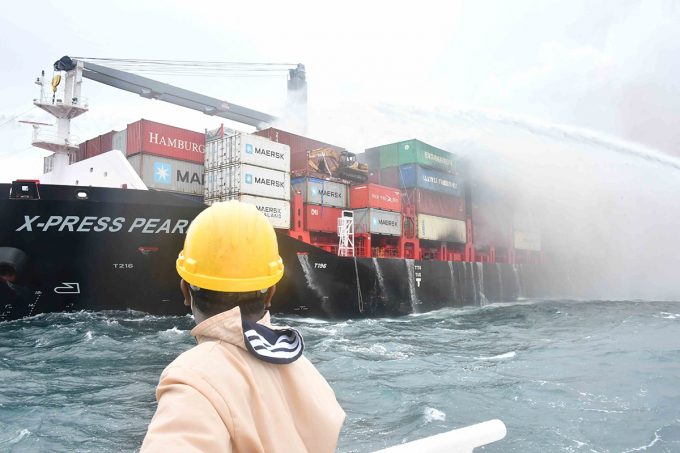 The fire on a feeder vessel anchored outside the Sri Lankan transhipment hub of Colombo continued over the weekend, despite initially being brought under control.
The 2,700 teu X-Press Pearl, owned and operated by X-Press Feeders and deployed on its Singapore-Middle East SMX service, reported the fire on 19 May while it was waiting for a berth at the port.
Firefighting tugs launched by the Sri Lanka Ports Authority (SLPA) and Sri Lanka Navy helped bring the blaze under control, but it continued to flare up and the SLPA said the fire was "believed to have been caused by a reaction to chemicals in the containers".
There is particular concern about a shipment of some 25 tonnes of nitric acid loaded at its previous call, at the Indian port of Hazira.
According to local reports, Sri Lanka's Marine Environment Protection Agency said early investigations showed that fire continued to burn under a container floor in the vessel.
The SLPA said a team of salvors from Dutch firm Smit had arrived on a specially chartered flight yesterday and had boarded the vessel to begin inspections.
This morning, X-Press Feeders released an update: "Fire/smoke still remain on board the vessel but is currently under control. More firefighting tugs have been deployed and they will continue to fight the fire. All the crew are safe.
"The salvage team, with fire experts and firefighters, are on board the vessel and are carrying out the risk assessment. They have already taken steps to stop the spreading of fire into other areas.
"We have been advised that special firefighting equipment will arrive tomorrow. We therefore remain hopeful that the fire will be put out by the salvage team as soon as possible," it added.
Meanwhile, Sri Lanka's National Building Research Organisation has begun collecting air samples in the vessel's vicinity to determine if it has led to a significant increase in air pollution levels.