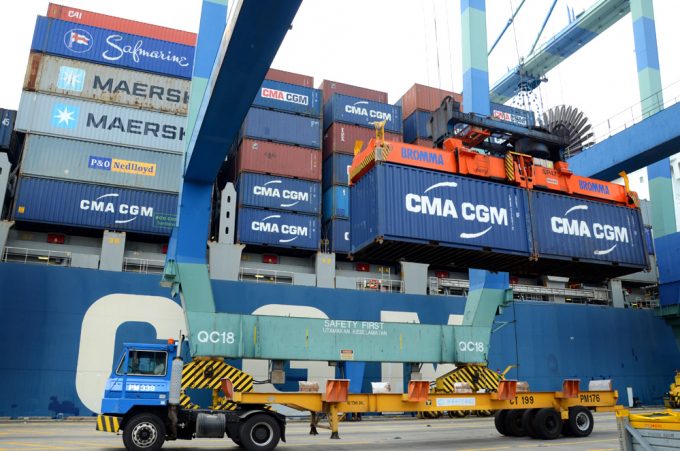 Despite CMA CGM's acquisition of APL and its subsequent plan to operate a joint-venture terminal with PSA in Singapore, rival transhipment hub Westports is unlikely to suffer significant volume losses.
According to new analysis by Malaysia financial group Kenanga Research, the Port Klang terminal operator – 30% of its throughput currently comes from CMA CGM – will maintain volumes due to its cost advantage over Singapore.
"We do not expect Westports to lose CMA CGM altogether, due to [that] competitive edge, and we believe there will be more than sufficient volume for a dual-hub – especially once the new Ocean Alliance kicks in by April 2017," Kenanga said.
It said CMA CGM's JV with PSA would see the carrier lease four berths at Singapore's Pasir Panjang terminal, with a maximum capacity of 3m teu, whereas the merged volumes of CMA and APL is estimated to be almost double that.
Kenanga added: "The new Ocean Alliance will have sufficient throughput volume that could be deployed to Westports, where tariffs are still among the cheapest in the region."
Indeed, according to MIDF Amanah Investment Bank, Westports' tariffs are around 50% lower than PSA.
This competitiveness would play a role, Kenanga noted, since CMA CGM had stated its intention to "cut US$1bn in costs over 18-20 months", and the line also said: "It would make sense that CMA CGM maintains a fair portion of volumes at Westports."
The analysis is shared by Westports chief executive Ruben Emir Gnanalingam, who told The Loadstar he expected a dual-hub approach from the Marseille-based shipping line.
"I believe the terminal is a natural extension of the commitment that CMA CGM has made in purchasing APL. CMA CGM will have to move some of its volumes from us to Singapore, but it will have to do so if it wants to have two hubs anyway," said Mr Gnanalingam.
He added: "Any impact on Westports volumes will need to be seen from the impact of the overall alliance changes, and it is way too early to speculate on that."
According to Alphaliner, the Ocean Alliance, comprising CMA CGM, China Cosco, Evergreen and OOCL, would control 23.5% of the global container fleet. Mr Gnanalingam said that even if CMA CGM wasn't planning on shifting cargo to Singapore, the volumes provided by the alliance would be too much for Westports to handle.
"Ocean Alliance's total volumes on the Straits of Malacca are huge. I do not believe we have the capacity to become their primary hub, even if we wanted to. It is an alliance of six lines in operational reality, although officially it is just four," he said.
Mr Gnanalingam said he did not expect any major changes until after the new alliance structures begin operating in 2017.
He expects Westports to grow by just under the 8% achieved in 2015 when it handled 9.1m teu. Kenanga predicts a more conservative 4.1-4.2% for fiscal year 2016-17, achieving total volumes of 9.4-9.8m teu.