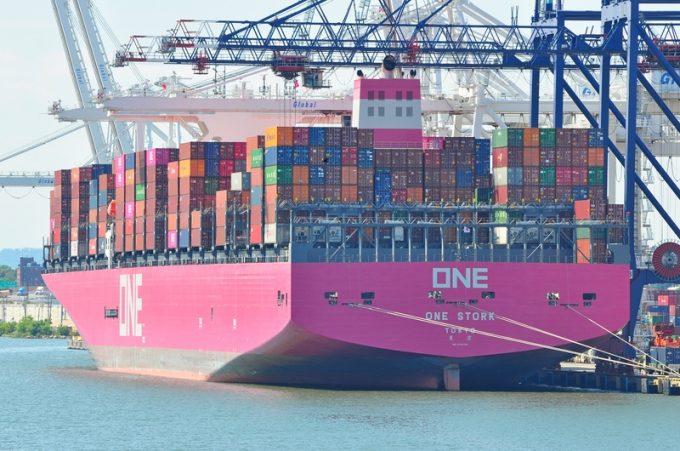 As container shipping's rollercoaster year continues a steep climb, one senior carrier executive has declared: "We're sold out."
Jeremy Nixon, CEO of Ocean Network Express (ONE), said 2020, with global lockdowns and subsequent swings in demand, had been an "incredible year".
"I don't think we've ever seen anything like this," he said during an International Chamber of Shipping webinar.
"China went down [with the virus] very, very fast, and then, just as they were getting better, we had destination countries going through the same kind of shutdowns.
"So we had this incredible wave of change, which meant we had to shut down capacity, move ships around, move containers to the right places and try and understand what was going on and what customers needed, when and where."
Mr Nixon said that ONE moves around 13m containers a year, on board 250 ships, and has 10,000 staff at sea and 10,000 on shore, so it had been an "incredible task" when, in April, the company was forced into remote working. But now systems and digital tools were a lot better, which had been "a big tick" for the industry this year, he added.
The task now, he said, was accommodating the big bounce-back in customer demand.
"We are now in October, and it's unbelievable," Mr Nixon said. "We're sold out – the ships are 100% full, the containers are 100% full, you can't get a container and you can't pick up a ship from the spot market. The whole container shipping cycle is working at absolute full pelt, and our job is trying to keep the network going."
And fresh operational hurdles are emerging at numerous port congestion hotspots, he added.
"With everything deployed, the ports are getting jammed up. Some have fewer workers because of Covid regulations, we have fewer truckers on the road and railroads are impacted, so we're starting to see bottlenecks in that container supply chain."
Furthermore, the crew change crisis is still unresolved, and Mr Nixon issued a rallying call for governments to do more for the 300,000 seafarers in need of repatriation, many having served far longer than their contract terms.
"We've got to get these people back," he said. "The ICS and IMO have done a fantastic job in highlighting the issue and coming up with protocols and procedures, but there's a lot of stickiness at the local level, in terms of ports and trying to get flights sorted.
"Governments, please work with us; please help us, help us get our crews home and help us keep the global economy going."