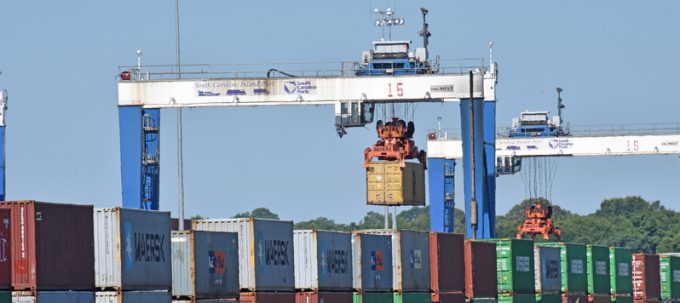 Tyre maker Michelin is ramping up its use of Inland Port Greer in South Carolina, bringing in products from its facility ten miles away for onward distribution..
So far it has moved raw materials through the port, but now, said Julie Branham, supply chain manager for Michelin North America: "Port Greer enables Michelin to seamlessly import materials and export tyres to global markets through the port of Charleston."
GE Appliances is also relying more on the inland port concept, and has picked Georgia's Appalachian Regional Port for flows through the port of Savannah.
Inland ports are on the advance, notably on the eastern seaboard. Inland Port Dillon in South Carolina recently reported its highest fiscal-year volume on record with 32,453 rail moves, an increase of 9.7% over the previous year.
"Our inland ports are a success story," said SC Ports chief operating officer Barbara Melvin. "The inland ports provide crucial speed-to-market for cargo owners."
South Carolina's neighbours have also been gung-ho on the concept. To the south, Georgia Ports Authority has been investing in new inland ports to expand the reach of the port of Savannah. To the north, North Carolina Ports has seen volumes double on the rail corridor between the port of Wilmington and the Charlotte Inland Port, which doubled its container capacity last year.
"We've been utilising inland ports more than in the past," reported Bob Imbriani, senior vice-president international at Team Worldwide. Primarily the forwarder is using them for inbound flows, he added.
In the past, Team would route ocean cargo to the Californian port of Long Beach and collect it from there; today it has some of the freight moved to an inland port.
To a large extent, the increase in volumes that Team collects from inland ports is a reflection of growth in inbound ocean freight, but other factors are also at work, Mr Imbriani said. Shortages in the long-haul trucking sector have made it more challenging to move cargo over long distances on the road, he pointed out.
"Many truckers move freight only within one or two states," he said.
Lately a number of ports have suffered congestion and delays. Collecting freight from inland ports usually avoids these hassles, he noted.
"Retrieving cargo from inland ports is usually much faster than at the major ports."
Likewise, transits from vessel to train to move the cargo to an inland port is usually a fairly efficient process, which makes up for the additional transit time to the inland port, he said.
Visibility of the cargo in transit is not as good, though.
"Monitoring from the port to the inland port is not so easy. There can be some tracking problems and on occasion some delays," he said.
Above all, he advocates taking a flexible approach. Conditions change, so it is important to monitor the different routing options on a regular basis and not to be locked into one particular system and routing.
"This week it may be best to go this way, next week that way is better," he said.
At this point inland points appear to be a solution that is rising in popularity. However, their success is far from guaranteed. West Virginia Public Port Authority has been eyeing the sale of the Heartland Intermodal Gateway, a $30m project that has been idle for some time. According to the state's department of transportation, the facility, which cost about $500,000 a year to operate, has not generated sufficient income.