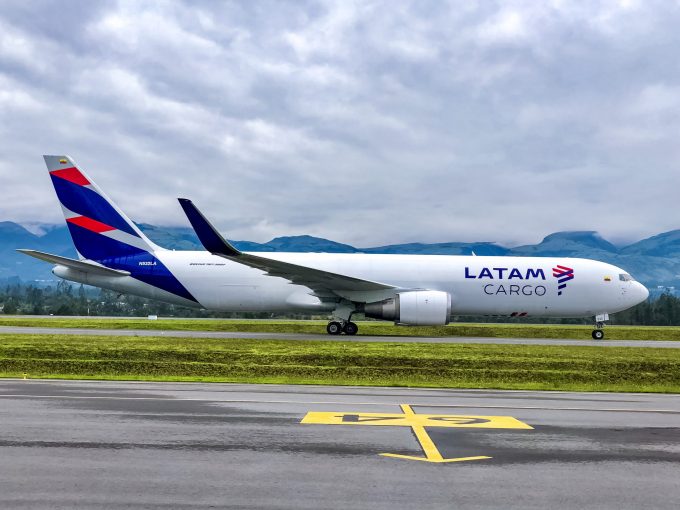 LATAM Cargo is reporting healthy loads on its transatlantic routes to Europe, and is cautiously optimistic about the current air freight market.
The airline group, based in Brazil, Chile and Colombia, said it needed to increase capacity, especially on transatlantic routes that see regular shipments of cargo like fresh flowers and fruits.
"Transatlantic flows continue to be healthy, but it's a market we are monitoring closely as several factors are working in opposite directions," Andrés Bianchi, LATAM Cargo CEO told The Loadstar.
For example, demand out of Europe may be supported by increased competitiveness provided by a weaker euro, he said, but capacity restrictions between Asia-Europe had impacted flows.
"On the supply side, the capacity has increased due to the recovery in passenger flights, but very high passenger load factors mean actual cargo capacity is lower than what you would expect," he said.
Mr Bianchi said perishable flows into Europe had remained stable, supported by robust demand out of Ecuador, Colombia and Brazil.
"From our perspective, successfully serving transatlantic routes to and from South American markets requires carefully combining belly and cargo capacity, as it is an extremely demanding and competitive market."
IATA indicated that Latin American carriers recently reported the strongest growth in air cargo; up 9.2% in volumes in July, compared with the previous year, with various airlines investing in additional aircraft capacity for the months ahead.
Also, trade between the EU and South American countries continues to grow. Ecuador, Colombia and Peru, in particular, benefit from an EU trade agreement which includes full or partial tariff liberalisation, which bring opportunities for air freight. According to the EC, the EU has been eliminating tariffs on almost all exports from Colombia, Peru and Ecuador, with some exemptions on certain perishables.
The highest EU exports to the three Andean countries are manufactured goods, especially machinery and transport equipment, as well as chemical products. In the opposite direction, shipments from Colombia, Peru and Ecuador into the EU comprise agricultural products, fuels and mining products.
When looking at the shifting trends following the pandemic, Mr Bianchi said that, during Covid most demand drivers supported strong growth.
"We don't believe that will be the case in the short term, and we will likely see a slowdown in overall demand and this will be compounded by a faster recovery of belly capacity."
He added: "In the medium term, we still see a positive environment for freighter capacity, albeit one with somewhat different O&D and product mixes. Combining an attractive value proposition with efficiency and flexibility will be key in that scenario."
There are plans to add more 767 freighters to keep up with demand, and by year-end, the fleet of converted 767s is expected to reach 16.
The 767's versatility in developing long-haul, regional and feeder markets should enable growth for LATAM. And Boeing is ramping up production of its 767 converted freighter (BCF), while the opening of another conversion line, in partnership with Gameco, in April demonstrates the demand for mid-sized widebody freighter conversions.
"We are operating seven converted B767s, the latest was received in July, and since we chose Boeing as our sole provider all are BCF variants," said Mr Bianchi. "We will continue converting aircraft in the upcoming months, with six additional airframes going into conversion by the end of 2023," he added.
However, LATAM Cargo is not exempt to the labour issues facing the aviation sector.
"The workforce shortages are a reality right across the industry and, in our case, we were hit the hardest in 2021." said Mr Bianchi, adding that the airline has gradually reached targeted staffing levels by implementing measures to improve productivity and retention, and expand the sources of potential workers.