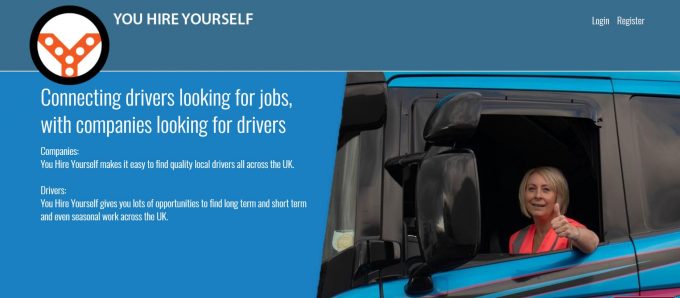 "Tinder for truckers" offers a potential route out of the driver shortage crisis but some hauliers have expressed reservations that such a scheme lacks the assurances that the agencies its challenging offer.
You Hire Yourself, founded by 40-year industry veteran Alex Crawford has been up and running for the better part of a year and works in a similar fashion to the cacophony of dating sites littering the internet and various app stores.
"Registration is free for driver and haulier alike and, using an algorithm, matches both parties based on the information they provide," Mr Crawford told The Loadstar.
"It includes auto-exclusion preferences for both sides, so drivers won't be matched with jobs they don't want, and hauliers won't be linked to drivers that don't have the qualities or certification they need for the job."
While registration is free, and a three-month trial included to allow users to "check its viability", the site generates its income through a subscription model.
Mr Crawford would not be drawn on how many drivers and haulage firms had already signed up but said the initial feedback from those who have signed up has been "immense", noting that many favoured a "simple subscription fee" to "hefty" agency costs.
"It's a win-win, by removing the costs associated with agencies, hauliers can increase the amount they pay drivers," he continued.
He went on to say that the You Hire Yourself site mitigates problems associated with the preferred supplier model which is utilised by agencies, that Mr Crawford believes has compounded the driver shortage problems currently being seen across Europe, North America, and the UK.
"I know drivers who are desperate to work but cannot because they are tied to agencies that are not on preferred supplier lists," explained Mr Crawford.
Asked how far he thought the concept, which he acknowledged as a "simple idea", could go, Mr Crawford said the plan was to concentrate on the UK "until we have total confidence" before moving it out to Europe and the US.
Noting that with agencies typically now charging £20 an hour, "albeit with just £15 going to the driver", he said the system could cut between £2-3 per booking "which builds up".
One forwarder told The Loadstar: "I've seen similar systems in the US and one of the troubles that getting something like this off the ground and running properly is building both credibility and reliability. Agencies vet drivers."
But Mr Crawford noted that drivers are required to upload their certification to the site, which is then approved by his team before profiles are made public.
A haulier based in the north of the UK described the solution as a "potentially positive move" that could help recruitment and cut out some of the costs and some of the agencies that "have taken advantage of the current situation".
"Our fleet is presently 70% agency staff, rather than the 30% it was at back in July," the haulier told The Loadstar.
"This has occurred by agencies poaching and placing drivers and then back filling them at an increased rate. The situation seems to be calming down a bit now but anything that can help drivers and hauliers with recruitment is a good thing."
As more drivers join or return to the industry and move to the UK to work it can be beneficial to have direct contact, said the haulier.
One driver cautioned that a "main failure" of such a scheme was linked to new IR35 rules that aim to clamp down on tax avoidance and blocks drivers from acting as a limited company where they would otherwise be deemed an employee.
"Larger companies with 50+ employees won't be interested as it leaves them vulnerable to severe HMRC penalties if drivers are deemed "employed"," the driver told The Loadstar.
"Smaller firms may be [interested] though as they are exempt from IR35 but then you have driver hesitancy as their first thought – my first thought – will be 'who pays me' at least with the traditional agency the driver knows the agency pays even if the employer is late paying."
The owner of a second independent haulage firm also raised concerns over implications linked to the introduction of the IR35 rules, telling The Loadstar that if a driver chose to "stay" at a company for months they could find themselves penalised.
However, Mr Crawford said the team was already working on a fix to the issue presented by IR35, with plans to introduce "accredited and proven" PAYE companies on the site.
"So, 50+ requirements should not be an issue as they could include temp drivers in their weekly/monthly payroll system, and so having a driver for a long period should not be an issue," he continued.
"Again, drivers can be offered full time employment with no penalties incurred unlike a typical agency contract where a company has to guarantee 13 weeks constant work.
"If they do not, then they are charged a flat fee to take a driver from the agency under the agreed terms and conditions. This situation would not be applicable for those firms using You Hire Yourself."
Indeed, the second haulier was also not out rightly opposed to the idea, adding: "We would use it for holiday cover, but this would be dependent on both the cost and service levels."
Responding to this, Mr Crawford said: "Companies are able to opt out at any time without facing penalties. So, if they require cover for holiday periods, they can sign up for a minimum of one month them opt out and reregister anytime."