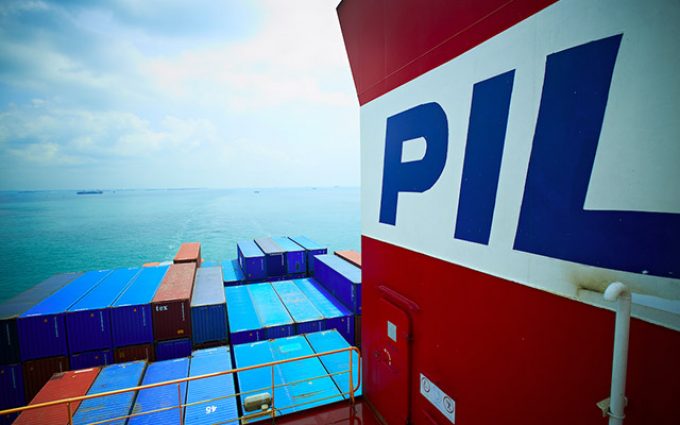 After its shock withdrawal from the transpacific this month, troubled Singapore-based carrier Pacific International Lines (PIL) is selling ships to raise cash to support its remaining operations.
It has prompted renewed industry speculation that PIL may soon pull out entirely from liner services, against a backdrop of stunted global growth and sub-economic freight rates on many trades.
According to Alphaliner, Taiwanese carrier Wan Hai has purchased 11,923 teu sister ships Kota Panjang and Kota Perwira from PIL for $93.4m each.
The two high-spec vessels, which feature 1,400 reefer plugs, are part of a series of 12 ships ordered by PIL in 2015 and financed by Chinese banks.
Moreover, Alphaliner understands that four other sister ships were acquired by containership owner Seaspan, in a $367m cash deal announced by the ship lessor on 25 February, which came with attached long-term charters.
PIL owns 89 containerships, valued at $1.6bn, with a scrap value of $500m, according to the latest vesselsvalue.com data.
Explaining its decision to exit the transpacific, PIL said it "was part of a wider strategic review of its business" and that it would henceforth focus on its north-south trades such as Africa, the Middle East, India sub-continent, Latin America and Oceania.
The line had a difficult start to the year when six of its ships were anchored off Singapore, due to "issues" with its bunker suppliers. The company denied reports that the vessels were being held under arrest for non-payment of bunker bills and strongly refuted claims it had fallen behind with charter hire payments.
However, the rumours caused considerable unease in the market, with some forwarders reportedly instructed to stop booking with PIL.
Alphaliner said that, at the end of last year, PIL had also reportedly sold its 60% stake in the South Pacific Islands specialist Pacific Direct Line (PDL) to the owners of Neptune Pacific Line, although this has not been confirmed by either party.
And PIL's container manufacturing subsidiary, Singamas, sold the majority of its dry container manufacturing factories in China to Cosco last year for $565m.
Ranked the  tenth-biggest container carrier, in terms of capacity, with 387,000 teu and a 1.6% share of the market, 50-year-old PIL has admitted to "very difficult" trading conditions in recent years. It also operates a small fleet of dry cargo vessels and bulkers.
PIL retains a close partnership with Cosco, with slot-sharing cooperations in West and East Africa trades. The Chinese state-owned carrier is seen by analysts as its "most likely suitor".