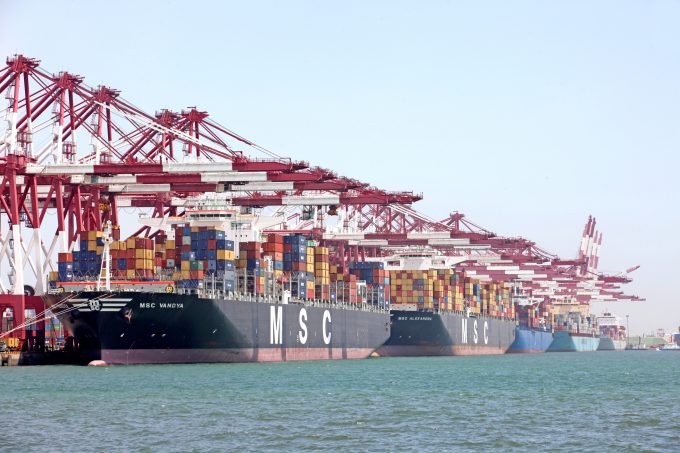 Container lines should follow the example of Maersk Line and negotiate deferring new vessel deliveries.
Analyst Drewry says that with 1.6m teu of newbuild capacity scheduled for delivery this year, it would help counter the industry's chronic over-tonnage.
"To ensure that the nascent recovery of the market is not scuppered, carriers need to smooth the supply-side pressures as much as possible, by deferring new ships and scrapping more existing units," it said.
And with shipyard orderbooks virtually empty, Drewry says there is a "window of opportunity" to push back the dates, which might even suit the yards as well.
AP Møller Maersk (APMM) announced during its 2016 results presentation that the container line was pushing back the 2017 delivery of nine 14,000 teu ships by approximately a year.
CFO Jakob Stausholm said: "We have managed to delay delivery at no cost, and operationally it actually fits us quite okay."
In better times for the shipyards, container lines were obliged to pay penalties for taking delivery of ships late, and in some cases faced hefty cancellation fees when final stage payments were not forthcoming.
Maersk said it did not need the ships at present and, furthermore, was able to charter vessels of this size easily and cheaply, if required in the prevailing depressed market conditions.
Nevertheless, Maersk Line's 2M partner MSC is continuing to receive new tonnage as per the delivery schedule. The carrier received the 19,472 teu MSC Rifaya last week, and will take delivery of two further 19,500 teu ships in the series by the end of next month – all of which will be deployed between Asia and North Europe.
Hyundai Merchant Marine (HMM) and the Islamic Republic of Iran Shipping Lines (IRISL) are the only ocean carriers that have publically indicated that they will be ordering new tonnage, said Drewry.
Drewry said that given the crisis in the shipbuilding industry it could even be an advantage for the yards to keep workers employed, albeit at a reduced level.
The South Korean government has been forced to take radical action to help save its key shipbuilding industry. It employs around 200,000 people directly, and many more indirectly, and is predicted to face some 60,000 redundancies this year and next, unless there is a significant pick-up in orders.
A pause in the delivery of new tonnage, coupled with a continued acceleration in the scrapping of older units, could help to address the idled tonnage problem of currently some 340 ships, or 1.3m teu, representing 6.5% of the global cellular fleet.
According to London shipbroker Braemar ACM, containership scrapping reached a new record in 2016 of 189 demolitions (658,000 teu) and this year has already seen 56 vessels, equating to 185,500 teu, sent to the breakers' yards so far.