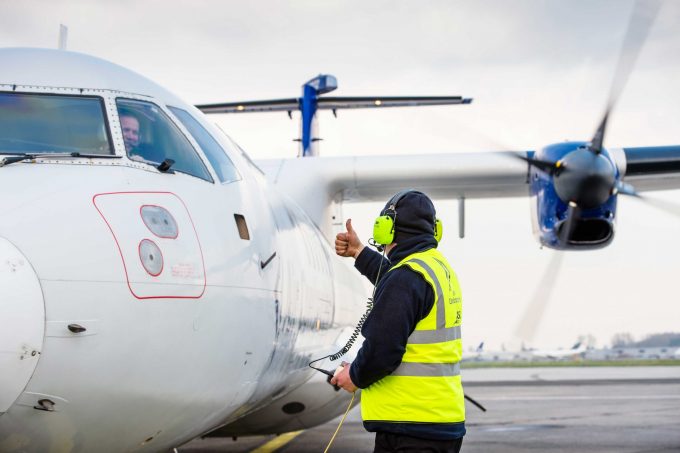 There is a new UK cargo airline – but details of its plans remain scant at the moment.
ASL Aviation Holdings, a European express-focused operator, has received an air operator certificate (AOC) and operating licence from the UK Civil Aviation Authority.
Claiming to be "the world's newest cargo airline", ASL Airlines UK has operated its first flight, with an ATR72-200 freighter, from its new base at East Midlands Airport to Belfast International, a route it will service daily.
"Our decision to establish a UK airline was customer-focused," said Colin Grant, chief operating officer of ASL Aviation Holdings.
"We want to offer our customers flexibility in their route planning when they want to operate domestically in the UK, or in time, to fly from the UK to the EU," he continued.
While Belfast is part of "domestic UK", it remains in the EU Customs area, causing some complications for shippers, with the 'border' now in the Irish Sea.
Currently, the AOC only allows cargo flights on this single route, but the airline is looking at opportunities to grow its domestic UK network. It said it was applying for EASA Third Country Operator (TCO) authorisation for cargo flights from the UK to Europe.
ASL Aviation Holdings' group includes four European airlines and two associated non-European carriers. They fly for express operators, as well as Amazon. The group said the UK arm would be "closely aligned" with ASL Airlines Ireland, with common procedures and sharing support services.
"This corresponds with ASL Group's programme to harmonise operations, remove unnecessary duplication and the creation of 'centres of excellence' serving all airlines," it said.
CEO Dave Andrew added: "The launch of ASL Airlines UK further strengthens our customer offering. We will continue to explore opportunities to grow by offering all customers, new and old, a neutral service with the agility to deliver, develop and grow according to their requirements."
ASL Airlines UK's ICAO three-letter designator is ABV, and its callsign is 'Cargoblue'.