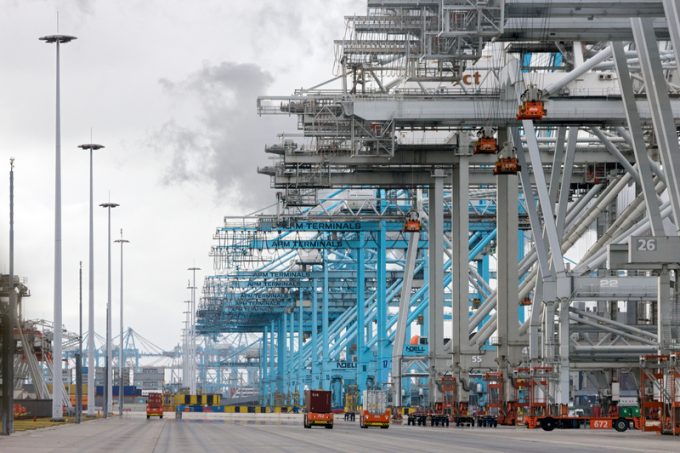 The main container ports in North Europe were eerily quiet at the weekend, due to the almost week-long blockage of the Suez Canal by the Ever Given.
But now, an armada of late-running ULCVs is enroute from the Mediterranean, providing an intense challenge for vessel operators to turn ships around as quickly as possible and return them, as well as desperately needed empty equipment, back to Asia.
For example, the 19,273 teu Cosco Shipping Scorpio cleared the canal on 1 April and, with around 60 other containerships is steaming towards the port of Rotterdam.
The fully-laden vessel, deployed on an Asia-North Europe loop by the Ocean Alliance was stemmed to arrive on Saturday. However, according to the latest VesselsValue data, it is making a slow-steaming speed of 14 knots and a revised eta of 10am on 13 April.
Some vessels will be asked to reduce speed to avoid unnecessary fuel consumption if obliged to wait for a berth and others asked to speed up to meet a berthing window, and the alliances will be obliged to juggle the rotations of the ships in their loops in order to mitigate the impact of vessel bunching at ports.
For their part, terminal operators are warning carriers that there is a limit to their capacity.
The Loadstar understands both Antwerp and Rotterdam are taking a harder line than normal on requests to discharge UK cargo at their hubs, fearing terminals will become overwhelmed with boxes on the quayside awaiting relay or feeder connections.
Discharging a forward port's cargo also brings the problem of targeted containers being over-stowed, obliging the terminal operator to dig out and re-stow containers and thus extend the time in port, delaying the berthing of subsequent vessels.
The port of Rotterdam said it was "important to keep capacity levels at the terminals at a manageable level".
It added: "Since the port expects an exceptionally high influx of vessels and freight, it is important to work towards swift circulation, as well as an optimal balance between import and export flows."
The port said it would look to restrict "premature" export deliveries.
"Since the terminals won't be able to help everyone at the same time, we are calling on all parties in the logistics chain to check whether they have any opportunities to adapt their processes in the interim," it added.
According to Alan Murphy, chief executive of SeaIntelligence, there will be a sharp drop in export capacity from North Europe to Asia as a consequence of the Suez Canal disruption.
"Exporters are facing an imminent drop in export capacity of almost 80%, followed by two weeks of much higher than usual outbound capacity," he said. "But an imminent sharp drop in export capacity will most certainly leave a significant amount of European export cargo in Europe for a week or two until it can be moved," he added.
Meanwhile, according to VesselsValue data, 17 Asia-Europe and Asia-US east coast vessels were diverted around the Cape of Good Hope while the Suez Canal was blocked.
THE Alliance partners re-routed three backhaul vessels from North Europe to Asia and one headhaul from Asia to North Europe, and HMM advised customers that "another spike will be apparent" once the diverted ships reach their destination ports.