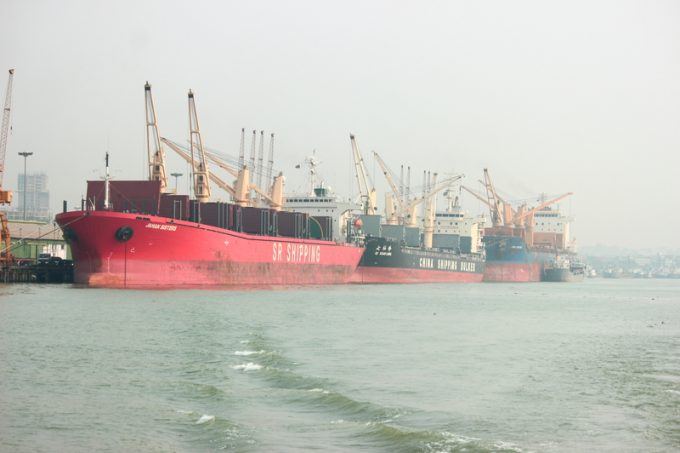 Chittagong Port Authority (CPA) this week doubled the rent for FCL import containers staying in the port yard for more than 11 days after the facility became flooded with uncollected boxes, disrupting Bangladesh's prime gateway.
The number of FCL containers at the port yard exceeded its designated capacity of 34,864 teu, forcing the port authority to store them at places allocated for other boxes.
The penalty was supposed to be introduced on 1 March, but was withheld at the request of the Chittagong port users' forum who pledged to take delivery of as many containers as possible to bring down numbers to a reasonable state within a week.
However, the delivery situation did not improve and the number of containers at the port yard yesterday was over 38,000 teu.
"The store rent is now double than the normal one," CPA spokesperson Omar Faruk told The Loadstar, adding that the additional rent would be withdrawn when the number of containers at the port yard returned to "a reasonable level".
Usually, the port authority allows an import container to stay at the port yard for four days without paying any rent. After that it can charge up to $12 per teu and $24 per feu, in addition to regular daily rent, to discourage importers to use the port yard as a warehouse.
CPA chairman Rear Admiral M Shahjahan urged importers to immediately take delivery of containers to help facilitate smooth operations at the port yard. He said the shippers only take delivery of containers four days a week, despite the port operating every day.
"During Friday, Saturday and Sunday the number of container deliveries is very poor," he said.
Port officials claimed importers were storing goods, including essential commodities, ahead of the holy month of Ramadan, slated to start mid-April, and Eid ul Fitr in May, adding that importers prefer to use the port yard as a warehouse as the usual rent in the port yard is much lower than outside its gates.
Excessive profiteering by artificially limiting the supply of goods on various occasions is a common allegation against Bangladeshi businesses.
President of the Chittagong Chamber of Commerce and Industry Mahbubul Alam told The Loadstar he believed various factors were behind the build-up of containers at the port.
"The importers alone are not responsible," he claimed. "Sometimes required documents for releasing containers does not come in time or fails to get clearance from a bank and, especially on weekday holidays, processing documents at customs offices is not done properly as many of the offices relating to the releasing of containers remain shut."
But he urged shippers: "You have to take delivery of the containers as fast as possible," and the port authority to reconsider the rent increase "for the sake of businesses still feeling the pinch of the Covid-19 pandemic".