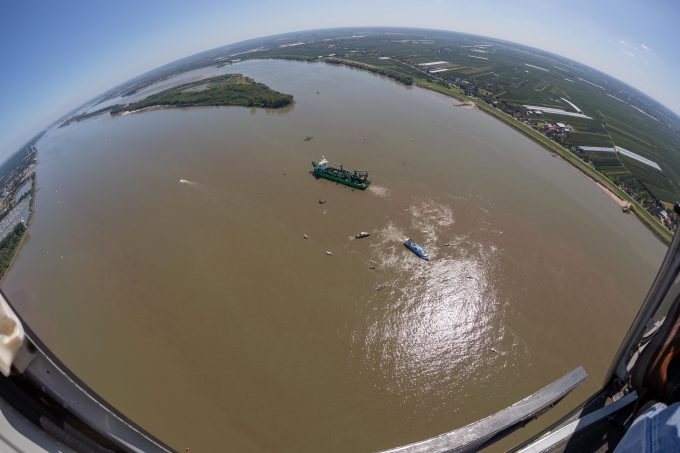 The Elbe deepening project finally got under way yesterday, following years of delay which saw the port of Hamburg tumble down the European port rankings.
The two-year project involves dredging the lower and outer sections of the river to a tide-independent depth of 13.5 metres and constructing a 385-metre passing point for vessels.
On LinkedIn, Deme Group, responsible for the project, said: "And off we go! After a symbolic push on the button, our trailing suction hopper dredger Scheldt River kicked off the works, which should be completed early 2021."
Dredging the river has become essential to the future of Hamburg as a hub port in recent years, with the increasing size of ships being deployed by carriers.
Calculations suggest the deepening could see vessels calling at Hamburg exchange an extra 1,800 teu per visit, although some ULCVs now have a maximum draught of up to 16 metres.
Executive board member of Hapag-Lloyd Maximilian Rothkopf said: "The port of Hamburg will become much more attractive for customers."
In terms of box volumes, no carrier has a larger footprint at the German port than Hapag-Lloyd, moving some 22% of total port volumes, roughly 1.9m teu. And that number climbs when the volumes of its alliance partners are included, equating to 3.9m teu or some 45% of total port volumes.
"Once the relevant work has been completed, the world's largest containerships will be able to reach the city of Hamburg with virtually no limitations," Mr Rothkopf said. "In addition to container liner shipping companies, this will ultimately also benefit customers worldwide, whose cargo will reach the port more easily and quickly."
After 11 years of legal hurdles, Germany's Federal Administrative Court in Leipzig gave a go-ahead of sorts – but a further two years were required to redraw the original 2006 plans.
The amended project was finally approved last year after a series of measures were added to mitigate the various environmental concerns that had led to much litigation.
It came as a welcome boost for the port, which had seen Antwerp overtake it and entrench itself as the second-busiest gateway in north Europe. But Hapag-Lloyd remained loyal.
Mr Rothkopf said: "Our clear commitment to our home port of Hamburg remains unchanged. Hamburg offers us outstanding infrastructure and excellent hinterland connections – be it through a unique railway network or very good European motorway connections.
"This is another reason why we recently decided to relocate a large part of our North Atlantic services from Bremerhaven to Hamburg."