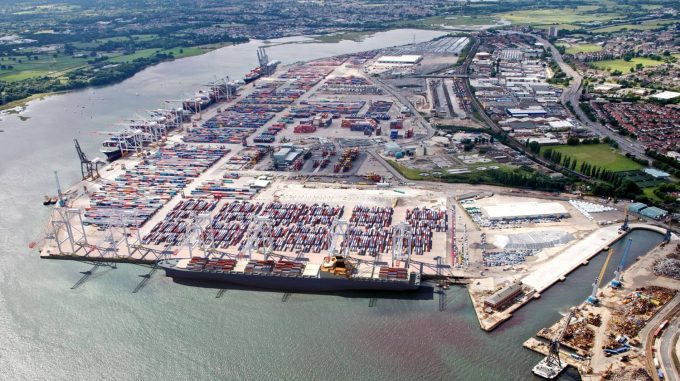 Port executives at Southampton have defended its record in handling containers, after hauliers yesterday said they would be looking for price increases to reflect the higher costs of retrieving and delivering containers.
The call follows the switch of THE Alliance's Asia-Europe services last April, which saw members Yang Ming and K Line leave Felixstowe for the south coast port – a result of last year's alliance reshuffle.
Hauliers say their costs have also increased due to lines' apparent inability to adhere to vessel arrival times in Europe, causing significant volumes of cargo to be "bunched".
However, a spokesperson for DP World Southampton today claimed its operations serving hauliers had improved over the past 12 months.
"Southampton's landside truck turnaround times actually decreased from average 36 minutes during 2016 to just below 33 minutes during 2017, an improvement of 7%.
"This is for the total time a truck is in the terminal, from arriving at the gate for dropping off an export container to picking up an import container and leaving from the gate.
"So, allegations from hauliers that there is structural congestion at Southampton are factually incorrect," the spokesperson said – although aknowledging the disruptive effect the change in alliance schedules had on haulage operations in the UK.
"The large national haulage operators have a long presence at Southampton as well as the locally established hauliers. The choice of THE Alliance to call at DP World London Gateway and DP World Southampton meant some hauliers that previously worked out of Felixstowe have picked up new business at Southampton and London Gateway and are now looking for facilities."
The terminal also disputed claims that the number of boxes at the port had increased significantly, and pointed to a 2016 terminal expansion project as evidence that it had sought to alleviate possible congestion.
"In August 2016, DP World Southampton added a further 11.2 acres of yard space to the terminal.  This actually enabled us to decrease utilisation levels during 2017.
"Our truck turnaround times and other live port status information, such as our stack holding are available for all customers to see on our website.
"DP World Southampton aims to offer the best customer service and productivity in the UK. Our vehicle booking system offers hauliers lots of flexibility to change bookings; even during peak hours there usually are truck appointments available. If it gets busy, we always look to maximise our resources and we have a 24-hour help desk for hauliers to address urgent issues," the spokesperson said.
However, liner analysts have also suggested that the current schedule of deepsea vessel calls at Southampton is likely to provide challenges to hauliers.
Commenting on our story yesterday, CTI Consultancy partner Andy Lane said that, in terms of the day of ship arrival and overall volume contribution to a terminal, 21% of the total weekly demand at Southampton was on a Sunday and 20% on a Tuesday – this compares with peaks of 19% on Fridays and 16% on Saturdays at London Gateway and 16% on Saturdays and 17% on Sundays at Felixstowe.
"14.5% [of the weekly demand] per day is the perfect spread," Mr Lane said.
The current Southampton peaks "would lead to an import delivery rush from Monday to Wednesday, but an export rush on Thursday and Friday", he added.
"That is a triangulation killer for sure, and results in many wasted empty container or empty chassis miles," he said.