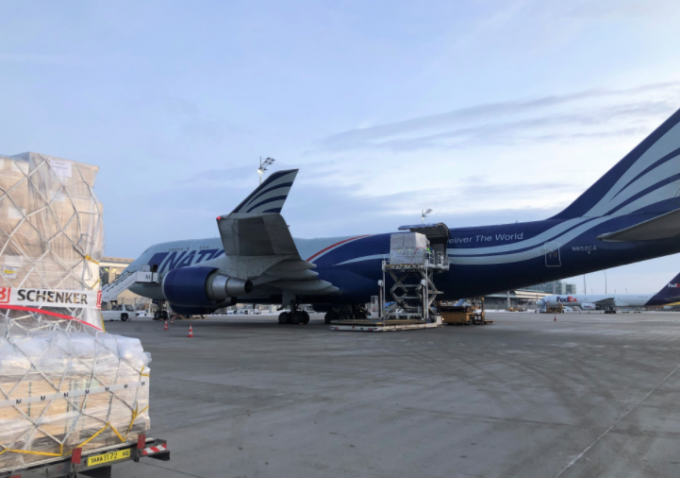 DB Schenker has aggressively taken on chartered air freight capacity – and plans more – as it seeks to consolidate and grow its position in the market.
But it has ruled out a permanent move to its own controlled network.
Last week, the forwarder announced that its air freight network spanned three continents, after signing for 43 charter flights a week amid concerns that the widebody passenger market – and its bellies – would not return this year.
Following Panalpina's retreat from its strong own-controlled network after its merger with DSV, DB Schenker's announcement appeared to look like it wanted to step into Panalpina's shoes.
But, according to a spokesperson, DB Schenker does not "have any plans for an own controlled network on a permanent basis. The focus remains on our core competences – planning and chartering air freight capacity, tailored to customer requirements".
However, he added that DB Schenker was likely to commit to even more capacity this year, with plans to extend capacity between China and Europe and China and the US.
The first new route, operated by National Airlines with a 400-ton capacity, runs from Chicago (RFD) via Munich to Tokyo (NRT) and Seoul (ICN), before flying back to Germany and the US.
The second connection will be launched at the end of February, and alternates from Munich to Chennai (MAA) and Chicago (RFD), with a combined weekly capacity of 300 tons. Both routes will run for a year.
The charters come on top of existing commercial block space agreements, but DB Schenker said it wanted to mitigate the impact of the lack of belly capacity. Pre-Covid, in 2019, the company chartered 210 full flights. Last year, the figure rose to some 2,100.
"For 2021, we can't give an estimate publicly yet. However, we expect the demand to remain high – that's why we set up the Global Flight Network," said the spokesperson.
One senior source at a rival company expressed surprise at the amount of capacity chartered for this year. But Stan Wraight, president of consultancy SASI, said: "It is a lot of capacity, but it's not all that much commitment risk – and it's a smart move.
"We are into a widebody passenger aircraft downturn for, unfortunately, years to come, I'm afraid. And key markets like the north Atlantic could see narrowbodies do the mission economically.
"However, moves like this will hurt the charter market by taking more uncommitted lift; so imagine when governments or companies start needing lift for supplies, Schenker can meet those needs with these committed aircraft."
Mr Wraight noted that chartering aircraft was the only way the "big boys", such as DSV, Schenker and Kuehne + Nagel, could compete with new entrants such as carrier Magma, now majority owned by charter broker Chapman Freeborn.
"Forwarders have no grip on scheduled airlines to get freighters anymore, and that will remain so for years."
DB Schenker is working with National, and it is thought also to have 777 capacity with AirBridgeCargo, as well as capacity with Cargolux.
Mr Wraight said it was increasingly difficult to find a neutral freighter operator.
"There are only a few freighter operators that are independent, National – which is usually not cheap – is one of them, and it has the benefit of US open skies agreements. It's the last independent US airline with widebody freighters. Atlas is tied up with DHL and Amazon, and said to be charging $10,000 a block hour for charters, (versus a typical cost of around $4,500).
"Kalitta is tied up with DHL in a big way, and ATSG is with Amazon."
DB Schenker, which is expected to report record results for 2020, indicated at the end of last year that it was considering aggressive moves to take market share.
With DSV focused more on local rather than global accounts and its takeover of Panalpina, there is an argument that there is now space in the market for a global-account-focused forwarder to expand.
DB Schenker' full freighter flight network, excluding the February launch of the Munich-Chicago routing, can be found here.
The company added: "DB Schenker controls a global flight network spanning almost all continents. With late departures at key gateways in many markets, later cut-offs for shipment drop-offs can be realised."