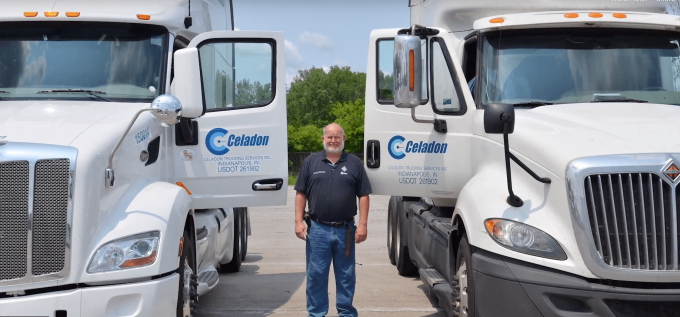 Some 4,000 staff face losing their jobs after US trucking company Celadon Group filed for Chapter 11 bankruptcy in the early hours of this morning. 
Drivers received the bad news in their cabs shortly after midnight.
The announcement followed a move by the SEC on Thursday to charge two former executives at the Indiana company with accounting fraud.
Former Celadon president and chief operating officer William Eric Meek and former chief financial officer Bobby Peavler have been accused of trying to conceal losses via a scheme to buy and sell trucks at inflated price, up to triple their value.
Celadon itself  is accused of overstating its pre-tax income, net income and earnings per share in its annual report up to June 2016 and subsequent 2016 filings. Mr Meek left the company in 2017, and Mr Peavler in 2018. 
Celadon agreed in April to pay total restitution of $42.2m, "for filing materially false and misleading statements to investors and falsifying books, records and accounts". 
Paul Svindland, formerly of XPO and EZE Trucking, brought in as chief executive in 2017 "to clear up the mess", said: "We have diligently explored all possible options to restructure Celadon and keep business operations ongoing; however, a number of legacy and market headwinds made this impossible. 
"Celadon has faced significant costs associated with a multi-year investigation into the actions of former management, including the restatement of financial statements.   
"When combined with the enormous challenges in the industry, and our significant debt obligations, Celadon was unable to address our significant liquidity constraints through asset sales or other restructuring strategies.
'Therefore, in conjunction with our lenders, we concluded that Celadon had no choice but to cease all operations and proceed with the orderly and safe wind-down of our operations through the Chapter 11 process."   
Celadon's lenders have agreed to provide incremental debtor-in-possession financing. 
In August, Celadon secured new financing of $165m from 17% shareholder Luminus, which was reportedly set to receive warrants giving it a 49.9% stake. But it was not sufficient to keep the company going. 
Celadon was founded in 1985 with 50 leased trucks and 100 leased trailers, and was one of the first US trucking companies to operate between the US and Mexico. It expanded to add warehousing, supply chain logistics, temperature-controlled and expedited freight services across North America, where it operated more than 150,000 border crossings each year. It now has some 3,300 tractors, 10,000 trailers and nearly 4,000 staff.  
Mr Svindland said: "I would like to thank our vendors, customers, and lenders, and most importantly, I would like to thank our dedicated administrative employees and drivers whose efforts should not be seen as a reflection of this Chapter 11 filing.  They have sacrificed so much of their time and effort for Celadon, and for that, the company is eternally grateful."