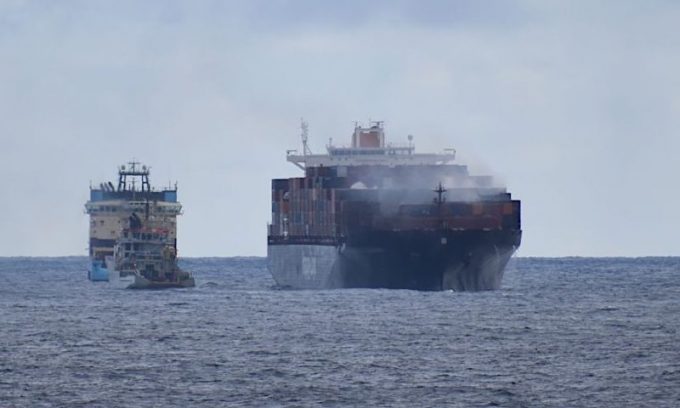 Shippers are facing further confusion over the fate of cargo aboard the fire-stricken Yantian Express after an update revealed "no change".
In a statement, Hapag-LLoyd noted that discharged containers were awaiting transhipment, while those still on board would not be moved until results from technical inspections had been received.
One shipping source told The Loadstar the update had just left shippers even more confused, and they questioned the point of it.
"They have basically said, 'here's an update, but there's no news in it for you'. What is the point in that?" he asked.
"These guys want to know when they can get their hands on their cargo, and what is happening with the damaged boxes."
Last week, The Loadstar reported that all damaged boxes had been removed from the ship, ahead of schedule. Yesterday's statement noted that these containers could not be reloaded back onto the vessel and that alternative arrangements were being made.
"We anticipate to conclude an arrangement for transhipment to an alternative discharge port shortly and shall keep you informed in this regard," it said.
"Likewise, the final port of call for Yantian Express is still to be nominated and we will advise further on this aspect as soon as approvals from port authorities concerned are at hand."
It furthermore warned customers to "promptly" contact the average adjuster to arrange for posting of general average and salvage security to safeguard "timely" release of their cargo.
General average was declared on 28 January, but it appears the vessel will have to move to another port before boxes unaffected by the fire can be unloaded.
The fire broke out in a container as the ship was en route to Halifax, spreading to other boxes as heavy weather hampered the crew's fire-fighting efforts.
Eventually they were forced to temporarily abandon the 320-metre vessel, which sails under a German flag in THE Alliance's East Coast Loop 5 (EC5) service.
Specialist supply chain insurer the TT Club last month estimated that a major containership fire at sea occurred, on average, every 60 days. However, in the space of just two and half months this year, there were four.