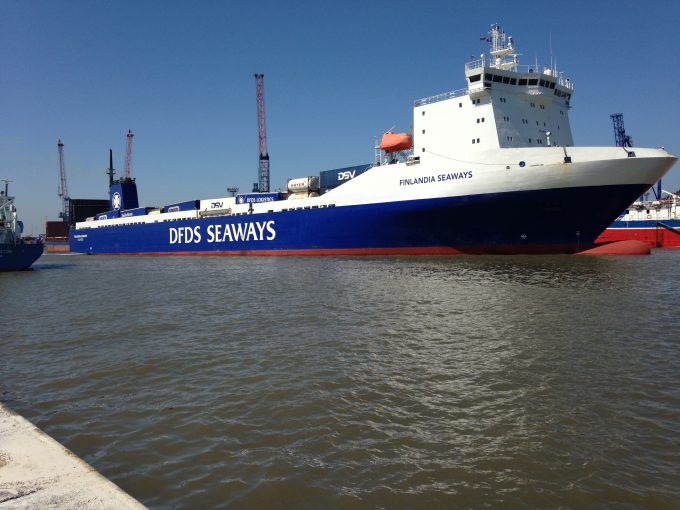 A major ship fire has injured one crew member and forced DFDS to cancel its "loss-making" Rosyth-Zebrugge ro-ro route.
The fire aboard Finlandia Seaways happened last Monday (16 April) in the engine room, with the injured crew member being airlifted to hospital and treated for smoke inhalation.
Senior vice president for North Sea routes Kell Robdrup said an inspection of the ship had revealed "substantial damage" to the engine room, resulting in the vessel being out of service for several months.
He added: "Furthermore, our search for a replacement vessel was fruitless and revealed that there are no suitable ships available. Unfortunately, this will bring about further losses on the route and means we have lost all hope of being able to turn around the route's loss-making.
"Therefore, we have no alternative but to close the route, as we undoubtedly will lose clients forced to seek alternative solutions for their transport."
Apologising for the impact on DFDS customers, Mr Robdrup said attempts to cooperate with the Scottish government to save the route, including using a combined passenger and cargo vessel for freight had also proved futile.
There had been attempts to reduce costs – double container stacking installing a scrubber to remove sulphur from the exhaust gas instead of using low-sulphur fuel– but, said Mr Robdrup, the route continued to make losses.
Charles Hammond, chief executive of Forth Ports, which owns and operates Rosyth, said he was "disappointed", but added that "we are concerned for the welfare of the injured crew member and we wish him a speedy recovery".
He said: "The service has a long history at Rosyth, operating since 2002, but has faced a number of challenges over the years."
Mr Hammond sought to reassure shippers that Scotland remained "well connected" to mainland Europe,via a "range" of multimodal services from Grangemouth.
DFDS, meanwhile, has announced it will deploy a new ship, specially designed for services in the Channel, from 2021. The ship will be built in Avic Weihai shipyard in China and will be able to carry 3,100 lane metres of cargo and 1,000 passengers.
Peder Gellert, EVP of the shipping division, said: "Since the ship has not yet been built, we have great opportunities to make sure that it is designed to give our guests the best possible experience.
"We will charter the ship from Stena RoRo and operate it for 10 years with an option to buy it after that. And since we are considering replacing the fleet on the Channel in 2031, the timing is really good."