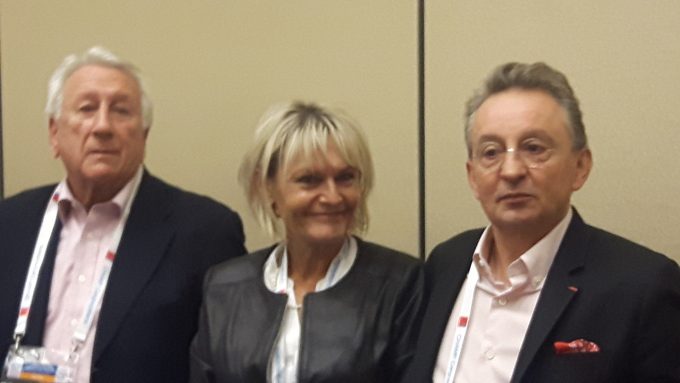 The ground handling market – and e-commerce – is set for a makeover with the formation of a new global network by WFS founder Olivier Bijaoui and Consolidated Aviation Services (CAS) founder Simon Caviezel.
The pair have set up US-based Transborder Aviation Holdings, which plans to identify acquisition targets and potential new operations and take on the incumbent handlers – including WFS.
This month Mr Bijaoui announced he had bought a stake in Paris CDG-based France Cargo Holdings, which has 12 domestic locations, as well as Belgium Airport Services in Liege, both of which will form part of the network.
Mr Bijaoui, who said he had spent two years relaxing after selling WFS to private equity company Cerberus Capital Management, now wants to bring in "a new style of handling" which will incorporate e-commerce.
In an eccentric but spirited press conference at TIACA's Air Cargo Forum in Toronto yesterday, Mr Bijaoui said: "The big new challenge for air cargo is e-commerce. It will revolutionise the cargo environment and we will need to be able to cope with those changes; we are going to have to be creative and smart.
"People always try to be smart in creating complex answers to simple questions, but it's not complex. The most serious challenge will be how to organise it – and how to price e-commerce handling.
"The price will also be a real challenge. You can't just get 8 cents a kg for this, it doesn't work. Before, life was simple: general and express. Now, for the same money as general cargo you have to make it fast too."
He predicted China's Alibaba would disrupt the existing market: "The threat is serious to FedEx and UPS."
He said Transborder, with sufficient funding from its founders and good relationships with banks, was looking for acquisition targets and "places we'd like to start from scratch".
"The opportunities are there. We know enough people to do cargo handling, and people will join us."
He said the company was already exploring opportunities in South America and Canada as well as Europe and the US.
"By the end of 2019, we will have a respectable network," said Mr Bijaoui.
"We want to cover the major gateways – but if you look at what's happening in Europe, freighters are moving away from the big hubs over things like congestion.
"This is a big change that brings about the emergence of airports like Liege. Major hubs are not always the answer.  You have to be there, but also at airports that can attract attention from freighter operators."
In a wide-ranging press conference, which could only have been given by someone with the confidence earned from spending 30 years making WFS the biggest cargo handler in the world – and then selling it, he said it was "a bit funny to go head to head with WFS, but it's part of life".
Transborder will have several advantages, borne from the founders' experience: relationships with previous staff at WFS, some of which have already made the jump; relationships with airlines, where the founders already have "credibility"; and a focus on a challenging new product and its "tsunami" of volumes.
"You can't reinvent the wheel," said Mr Bijaoui. "But you have to be good at what you do."