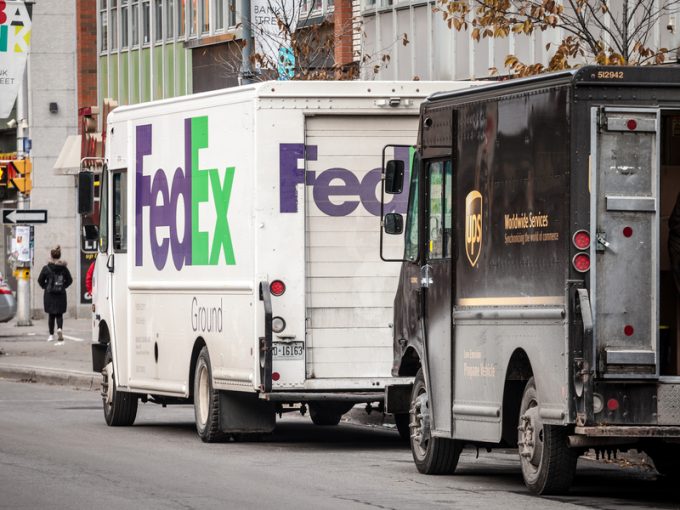 As the battle for last-mile supremacy rages on, the question over differences between US government status for FedEx and UPS may likely arise.
FedEx Express's status is via the Railway Labor Act, while UPS falls within National Labor Relations Act – the differences hinge on how each can unionise, and this could have a big impact on FedEx in particular if its status changes.
UPS has requested a number of times to have FedEx's status changed. In answer to one of these attempts, in 2009, FedEx chief executive Fred Smith penned a good article outlining the differences between the two Acts.
According to the article, the Railway Labor Act was passed by the US Congress in 1926 to limit "economically crippling strikes". The law was a direct response to local strikes that had bottlenecked railroads and negatively impacted the economy. Eventually the law expanded to cover airlines and express carriers.
Under the Railway Labor Act, groups that wish to unionise must do so across nationwide classes of employees. It also requires mandatory government-led mediation of contract disputes supervised by the National Mediation Board before a union can strike or an employer can replace employees or impose contract terms.
UPS has been under the Act since 1935. Under this, employees can unionise in small localised groups, and government-led mediation is not a required step in the negotiation process.
The reason for the different classification, according to Mr Smith, was that "they (UPS) have always been a ground company. When UPS began its airline segment in the 1980s, the employees in that segment, mostly pilots and mechanics, were classified under the Railway Labor Act – like all other airlines, including FedEx Express. However, UPS does not handle their air shipments in a separate and distinct network that ties directly into their air operation, as FedEx Express does. That's why their pickup and delivery employees have remained covered by the National Labor Relations Act."
Separate networks are what differentiates the two companies and it is the separate networks that could do for FedEx in in today's environment.
So, it came as something of a surprise when FedEx recently announced that, beginning in March, FedEx Express would contract with FedEx Ground for the transport and delivery of select day-definite, residential express shipments. FedEx Express packages will be selected for delivery by FedEx Ground if they are residential deliveries for which FedEx Ground can meet the service commitment.
"This move makes residential deliveries more efficient by putting the right package in the right network at the right cost to serve our customers," said Raj Subramaniam, president and chief operating officer, FedEx.
"This allows FedEx Express to continue to do what it does best—delivering business-to-business and premium business-to-consumer time-sensitive packages. The FedEx Express integrated air-ground network is precisely the type of innovative business model that our labour laws are designed to protect. This change leverages the strengths and investments in the FedEx Ground network, making it the network of choice for residential packages fuelled by e-commerce."
Two networks, separate, but collaborating. How cost effective is this? The lower-cost Ground division will likely help lower some of the Express division's costs but really, the efficiency of separate networks leaves a lot to be desired. Imagine the possibility of a combined network that could theoretically speed up last-mile deliveries regardless if the destination is retail or business, premium or economy. Oh, wait a minute, now we're talking about UPS, whose network is combined.
Going back to the classifications, FedEx is still maintaining separate networks, but now divisions are working closer together. It seems that the line of distinction is beginning to blur.
The Express division has faced various setbacks over the years and now represents about 53.6% of FedEx's total revenue. In fiscal year 2006, the division represented 66.4% of total revenue. Meanwhile the FedEx's Ground division represents almost a third of total revenue as compared with just 16.4% in fiscal year 2006. E-commerce and residential deliveries are driving growth in this group.
E-commerce and residential deliveries are also driving growth for UPS. Ground revenue has been about 44% of total revenue since 2015 and little change in Next Day Air revenue as well, about 11% since 2015. The difference is a single network.
Except for separate networks, there is no difference between FedEx and UPS. Perhaps it no longer matters that one provider falls under one Act and the other provider is under a different Act. The truth is, UPS is doing just fine while FedEx works to adjust its express capacity and profitability and grows its Ground division to attract more volumes.
In fact, the battle between these two competitors will likely not be their air service offerings but their ground divisions. While UPS's division comprises unionised company employees, FedEx's is made up of independent contractors. As FedEx grows its ground offerings, it will need to collaborate with its independent contractors – and at what point will these contractors say enough is enough?
This division does not fall under any federal act.