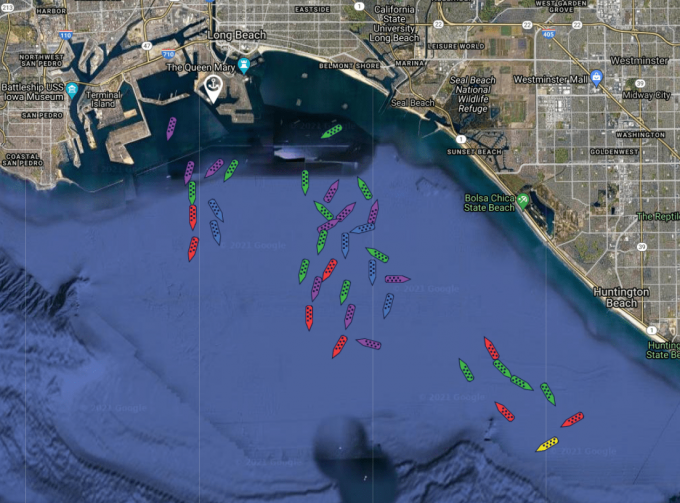 Ocean carriers are continuing to redeploy tonnage onto more lucrative east-west tradelanes, leaving shippers on lower-paying routes without a regular liner service.
According to Alphaliner, the Asia to Middle East trade is one of the secondary trades most affected by the drift of ships to other services, with no major carrier now able to offer a weekly sailing.
The consultant said it had counted just 29 vessels deployed on the seven dedicated China-Middle East services operated by the major carriers, whereas 50 ships would be required, according to the pro-forma schedules.
"Many ships have been redeployed to the main east-west routes, where cargo demand is very strong and spot rates are at historical highs," said Alphaliner.
Indeed, notwithstanding that spot rates between Asia and the Middle East have seen similar big spikes as in other trades, the current short-term rates, at about $4,000 per teu, are considerably lower than the transpacific market, where prices from Asia to the US west coast have breached $20,000 per feu.
"This shift continues," said Alphaliner, "as OOCL will this week redeploy the 13,208 teu OOCL Egypt from the Ocean Alliance MEA3 service to a seasonal transpacific service, operated jointly with its parent, Cosco."
It said the consequence of that was to leave the MEA3 loop with just one vessel, when it required a minimum of seven to fulfil the weekly service.
Elsewhere, Alphaliner said, the four members of THE Alliance were "also struggling to fully equip their two Asia-Middle East loops". But in contrast to the Ocean and THE alliances, 2M partners Maersk and MSC did not currently operate a joint Asia-Middle East dedicated service.
Several carriers have launched new services on the transpacific to cope with peak demand, including MSC, which has just announced two new weekly shuttles between China and Long Beach, commencing with the sailing of the 5,042 teu MSC Bhavya from DaChan Bay on 3 October on its new Puma service. This will be followed by the launch of its Shanghai-Long Beach Mustang service on 16 October, by the 5,018 teu MSC Anya.
Both these panamax ships have previously been deployed on transatlantic services.
Meanwhile, the new services and extra loaders from carriers between Asia and the US west coast, along with a number of self-charters by US retailers, has caused a massive spike in vessels obliged to anchor, or drift, waiting for a berth, in the San Pedro Bay.
According to data provided by Vesselsvalue, today there are 55 vessels waiting off Long Beach terminals alone, of which 40 are containerships with a total capacity of 252,550 teu.
And wait times are growing, with the chartered 4,130 teu JPO Libra currently suffering the longest delay, at 14 days 9 hours, according to Vesselsvalue data.
With charterers now paying up $200,000 a day for a panamax, the delays could cost the ship operators an eye-watering $2.8m just for the idling period.