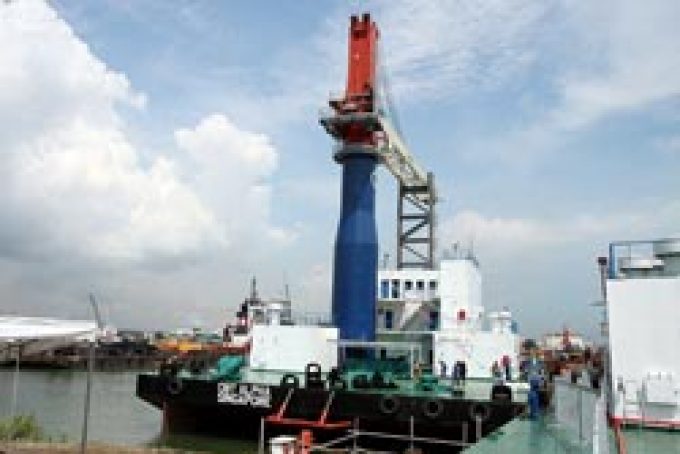 Seaspan, the world's largest non-operating containership owner, has announced its first significant investment outside the sector, suggesting it intends to diversify its business model.
The New York-listed lessor, with an operating fleet of 112 ships, said it planned to invest up to $200m in the restructured Singapore-based oilfield services group, Swiber Holdings.
Seaspan has a war chest of $1bn via investment from Fairfax Financial Holdings, now a 22% shareholder.
It had been assumed that Seaspan would use the cash to acquire distressed vessels or shipowners in the container market after its initial stated target to "deleverage its balance sheet" and obtain investment grade status.
However, in earnings calls chairman David Sokul, whose career background is in the energy sector, has alluded to the need to diversify into other sectors.
Swiber filed for bankruptcy in July 2016 after a decline in orders followed a prolonged slump in oil prices, leaving the company millions in debt.
However, with a number of projects in Asia still to complete, administrator KPMG received support from key suppliers, vendors and creditors to restructure the company under judicial management.
Swiber said today the $200m investment from Seaspan "could pave the way" for its recovery.
Subject to creditor and regulatory approval, the investment will be in two tranches: $20m in cash for new ordinary shares in Swiber, which will give it 80% of the company; and the remaining $180m to be invested in a wholly-owned subsidiary, Equatoriale Energy, relating to the development of a $1bn LNG-to-power project in Vietnam.
Judicial manager and the head of advisory at KPMG's Singapore office Bob Yap said: "The conventional oil and gas sector has faced difficult conditions in recent years. However, with growing demand for power in South-east Asia, there are substantial opportunities for companies to develop clean energy solutions such as power generated from LNG."
Mr Yap said the investment from Seaspan offered "a step forward in reviving Swiber as a going concern".
Seaspan's business model, to charter its ships on a long-term fixed-rate basis to liner shipping companies, was called into question in September 2016, after the bankruptcy of Hanjin Shipping which had a number of vessels on long-term charter.
Nevertheless, unlike some of its containership owning peers, Seaspan recovered relatively quickly from the setback, and was eventually able to re-charter those vessels to other shipping lines, albeit at lower daily hire rates.
Seaspan has filed a multi-million dollar claim against Hanjin in the Seoul bankruptcy court, but is unlikely to receive more than $0.2 in the dollar in any ultimate payout.
The chief executive at the time, Gerry Wang, had continually refused to accept that Hanjin would crash into insolvency and said the carrier had been up to date with its charter payments. It was later revealed that Hanjin was in arrears of around $19.7m.
When Hanjin did declare bankruptcy, stranding over 100 ships and more than 500,000 containers around the world, Mr Wang described the situation as shipping's "Lehman moment". He retired in November last year and was replaced by Bing Chen.
Of the Swiber deal, Mr Chen said: "We are excited to partner with Swiber. Together with Swiber's operational and engineering capabilities, Seaspan's leading maritime asset platform and our chairman David Sokul's energy-related expertise, we will unlock substantial value."