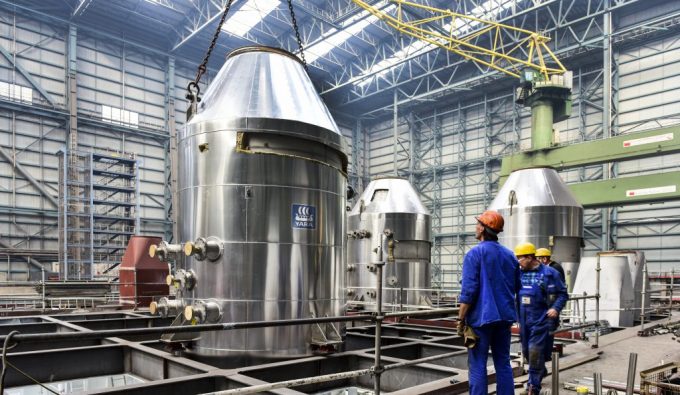 Although now nearly a quarter of the world's containership fleet by capacity is fitted with exhaust gas cleaning scrubber technology, new retrofit orders for the technology are "almost zero", according to a leading manufacturer.
During a Q2 results presentation last Friday, Wartsila CEO Jaako Eskola said: "Today the fuel [price] spread between high-sulphur and low-sulphur fuel is so low that the retrofitting order intake in scrubbers is pretty much almost zero."
Meanwhile, Alphaliner reported that, to date, scrubber retrofitting on 465 containerships had been completed.
Another 105 newbuild vessels, with a capacity of 900,000 teu, had the technology installed during construction, taking the scrubber-fitted fleet to 23.5% of the containerships in service, in terms of capacity.
The consultant said the number of vessels currently undergoing scrubber installation had "fallen sharply", to just 52, for 500,000 teu, compared with a peak of 117 ships, for 1.12m teu, in March.
The price premium for legally compliant low-sulphur fuel oil (LSFO) over heavy fuel oil (HFO), consumed by most ships prior to 1 January has fallen to just $50 a ton, from more than $200 a ton at the beginning of the year, making the cost savings of using scrubbers much less attractive to vessel operators, as well as significantly lengthening the return on their investment.
Moreover, ships fitted with open loop scrubbers – the vast majority – face a lengthening list of ports that ban their operation in their jurisdictions, resulting in vessels being required to switch fuel tanks.
"While pre Covid-19 spreads of $150-$200 potentially offered a payback period of one to two years, spreads in the $50-$60 per ton range now offer a stretch of four or five years until full payoff," said Alphaliner.
The considerable erosion in the operating cost advantages is a second blow to 'scrubber pioneers' such as MSC and Evergreen, which decided on a strategy of retrofitting for a substantial percentage of their fleet, but suffered lengthy delays to installation at oversubscribed yards in China, leading to expensive chartering of replacement vessels.
Nevertheless, all carriers have benefited from the plunge in oil prices since January, with LSFO falling some 40% and HFO, bunkered by vessels fitted with scrubbers, down by about a third.
Interestingly, Alphaliner noted that both Maersk and Hapag-Lloyd, carriers generally against the installation of scrubbers, were among the lines that had updated guidance confirming improved results in Q2, compared with the first quarter.
Indicating the effect of the cost of bunkers on its bottom line, Maersk's sensitivity guidance shows that a $100 per ton decline in its net average bunker price could, in theory, translate into a $300m increase in operating income.
"Maersk's bunker costs were $1.4bn in the first quarter, based on an average bunker price of $551 per ton in the period for the group," said Alphaliner.
Bunker prices plunged to a low of just $150 per ton for LSFO at the end of April, meaning that carriers will see the benefit of the rock-bottom fuel costs in Q2 and Q3, given the normal six-week lead time for voyage accounting.